Giving something back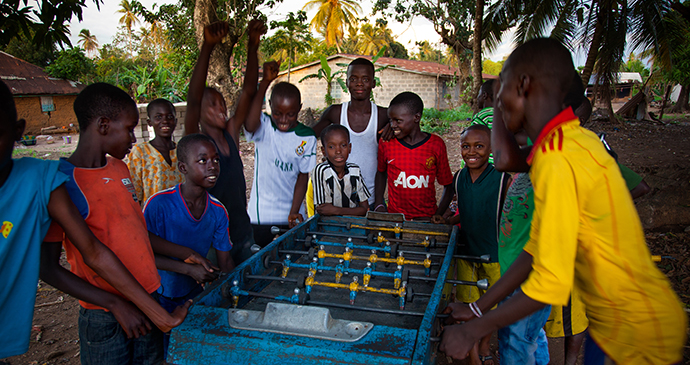 For a country with so few tourists, Sierra Leone will benefit greatly just from visitors spreading the word that it's safe, stable and stunning © robertonencini, Shutterstock
Sierra Leone has so few tourists, and the tourism sector is full of such unrealised promise, that even turning up is a boon for the image-beaten country. Go there, have a good time, and spread the word back home that it is safe, stable and stunning, and you will do more for the country's prospects than any single handout is ever likely to.
Without the giant hotel complexes of some of the more developed west African tourist destinations, it is impossible to shut out the overwhelming poverty in a country that sits near the bottom of the UN's human development index. On too many scales, Sierra Leone comes last; in too many real lives, day-to-day existence is unimaginably tough.
Devoid of a welfare system, many Sierra Leoneans give money to beggars. Collection day tends to be on Fridays, but there's never any lack of mendicants who will approach. Some Sierra Leoneans in equally dire straits are ashamed to beg, and of course for every person who asks there are many more who don't. Giving money to beggars is an uneven way of doling out cash, is unlikely to make a shred of difference in the long term, and – if anything – encourages the idea of dependency that can ultimately drain a nation's psyche.
However, simply doing what you might do on a 'normal' visit: behaving well, taking an interest, spending your money locally and wisely, rewarding good service somehow doesn't seem enough in a country as manifestly impoverished as Sierra Leone.
What more you might do is up to you. Although they have a chequered past in the country, supporting a charity that has a good record of co-ordinated, long-term support makes sense. All the usual suspects are here – UNICEF, Save the Children, Oxfam, Plan, Care, World Vision, Red Cross, MSF and dozens more. More direct support is another option, particularly if you find yourself becoming part of a local community. Many people will be very grateful for any support you can give, but bear in mind a few considerations. If you're keen to give money, it's crucial to look at what might work – what's needed and what's wanted – not just what you might like to do. This requires a lot of groundwork, and listening: what the women of a community might want – such as clean water nearer by – might not be what the men want – such as a generator for the chief 's house.
Education is one good area – paying for new skills or training beyond the financial reach of many Sierra Leoneans can vastly improve their job prospects and earning power, for example. Likewise health: the UK charity Welbodi Partnership supports paediatric care in Sierra Leone, and is trying to develop the Sierra Leone Institute for Child Health, a centre of excellence in paediatric care located at Olu During Hospital in East Freetown, the city's government-run paediatric referral and teaching hospital.
Most important, try to set up something with long-term prospects – a link between schools or a community partnership. Too often grand schemes collapse moments after the cash is handed over, because there's no-one to monitor or care about what happens next. If money is involved make it regular – a transfer to a bank account every six months is far better than a few haphazard windfalls. That way the people you are helping on the ground have the chance to make longer-term spending decisions rather than having to ask for cash at random. At every stage work closely with Sierra Leonean counterparts, and make sure they are involved all along the way. Be upfront about what is expected of you and them and make sure they do the same. It's a fine line between showing willing and promising a world you can't deliver.
On a much more immediate basis, Sierra Leone friends may well ask you for financial help in a one-off crisis. Understand that your sense of commitment can snowball. For example, if you give someone money for medicine they may well expect you to then drive them to the hospital if they get worse, pay doctors fees, and feed them in hospital. If you work out the parameters of what you can and can't do first it will make life much easier for everyone. The mantra is not necessarily 'don't do it', but be aware what you might be committing to, and be aware of how damaging it can be to pull out halfway through. You might also relish the chance to do something hands-on and volunteer. This might well prove more a life-changing experience for the volunteer than for the supposed beneficiaries. However, the UK's Voluntary Service Overseas and US Peace Corps are good places to start looking. Others keen to be involved at grassroots level have discovered numerous local non-governmental organisations whose work they deeply respect and have offered their own expertise – often in the realms of management, fund-raising, research or publicity. Bearing in mind the considerations above, if you develop a passion and see a place you can make a difference, go for it.