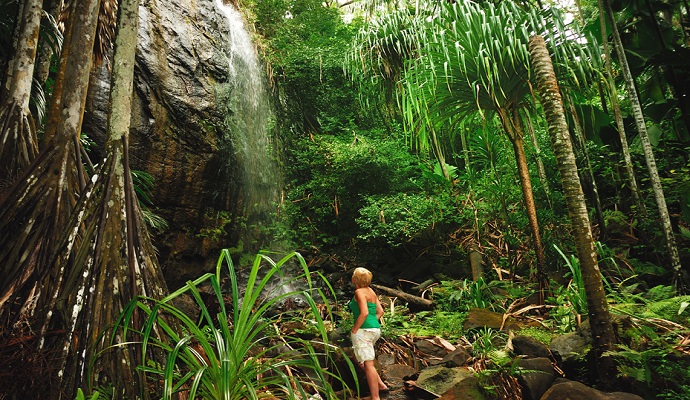 Waterfall at the Vallée de Mai reserve on Praslin © Gerard Larose, Seychelles Tourism Board
Home to the famous coco de mer palm, Praslin takes life at a gentle pace.
The lovely island of Praslin, home of the coco de mer palm, has a gentle, unhurried pace and an ambience of quiet tranquillity. Long stretches of fine, white sand framed by palms and shady takamakas, or small, secluded coves bounded by granite boulders, characterise this strangely shaped island surrounded by coral reefs. An assortment of islands lie beyond the coral reefs like chunks of emeralds in an azure sea. Mahé, 45km away to the south, is hazy in the distance; Aride, the seabird sanctuary, lies 16km to the north; and enchanting La Digue is located a mere 4km to the east. Curieuse, off to the northeast, is surrounded by its marine park and Ile St Pierre is a jumble of rocks lodged between Praslin and Curieuse. Cousin, an island bird reserve, and privately owned Cousine, lie to the west. Round Island, at the entrance to Baie Ste Anne, and Chauve Souris, a tiny clump of tree-covered rocks just 500m off Anse Volbert, complete the assorted satellite islands.
Areas of great natural beauty surround Praslin and the romantic 'island of palms' is the only place on earth where you will see coco de mer palms growing in magnificent profusion. The tall, elegant female coco de mer palm produces a huge seed, astonishingly shaped like a female belly and thighs, and the taller male palm has a remarkably phallic-looking flowering catkin. As can be imagined, these erotic shapes have resulted in the perpetuation of many myths and legends.