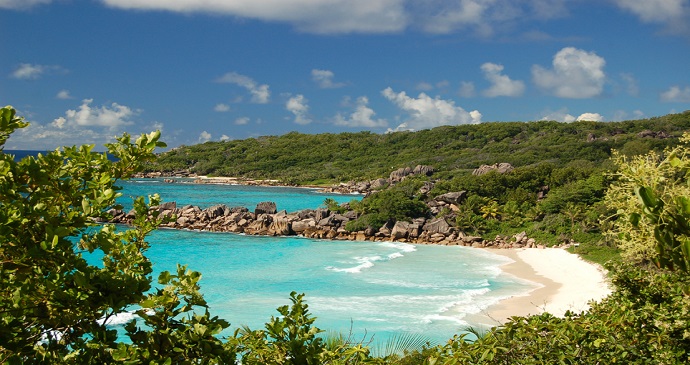 Sculptured granite rocks and exquisite beaches of La Digue © Seychelles Tourism Board
With its coconut palms and magnificent white sands, La Digue is the epitome of laidback.
La Digue, with its dramatic setting, is a laid-back, inviting island in the sun. It lies 50km northeast of Mahé, 4km east of Praslin and is the fourth largest of the granitic islands. The 10km² island is almost completely encircled by coral reef and has no natural harbour. A jetty has been built at La Passe on the west coast and, recently, a breakwater has been constructed to provide more shelter, particularly during the northwest monsoons. The island is about 6km long, a little over 3km wide, and rises up to 333m at Nid d'Aigles, 'Eagles Nest', the highest peak.
Coconut palms, magnificent white beaches, few shops, plenty of bicycles and a couple of ox carts all add up to a totally relaxed island-style way of life. At L'Union Estate copra is still processed in the old-fashioned way using an ox to turn the grinding wheel for extracting the coconut oil. Boats are built and repaired using traditional methods, and nobody is ever in a hurry. There are some lovely examples of Creole architecture nestling amongst the lush vegetation. Most of the 2,700 residents are involved in the tourism industry, others are fishermen and some are boat builders. On La Digue you will find small, welcoming guesthouses, coconut and vanilla plantations, art studios and the most seductive beaches. Although the public telephones may not always work, the ferries do arrive and depart on time. Over the years there has been increasing development on La Digue and, when the morning ferry arrives, it can be rather congested at the jetty. Recently, there has been a proliferation of vehicles on the island, which is somewhat disconcerting on the narrow roads.