Giving something back
Responsible tourism can mean many different things. It is about common sense and it hardly needs to be spelt out but it is worth making a few comments. Respect for the host country's culture is high on the awareness list. It is always polite to ask if you may photograph people and, if they refuse, honour their refusal. In the Seychelles, although an easy-going, relaxed lifestyle prevails, it is not a good idea to go into town scantily clad in beachwear. The beaches and surrounds are so lovely it would be a shame to spoil them with litter even though it appears that the residents do just that at times. Rather than using bottled water, and generating landfill waste from the plastic containers, bring your own bottle and simply refill it from the tap. During dry times of the year there can be water shortages, so be mindful of not using more water than necessary in showers.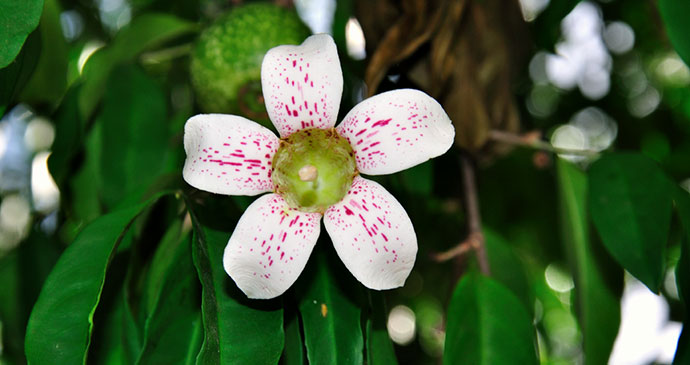 The endemic Wright's gardenia grows naturally in the wild only on Aride © Seychelles Tourism Board
Although the Seychelles is a developing country, there is not the dire poverty one finds in other parts of the world and social services appear to be doing a good job; there are no beggars or street children, the elderly are cared for and the literacy levels are high. Supporting the local economy by using local stores and smaller independent restaurants is important.
One of the greatest areas of responsibility for tourists in the Seychelles is around conservation of the environment. It is the basis on which the country's tourism depends and generates significant foreign exchange for the country. There are codes of conduct for visiting most of the island nature reserves and they have been put in place for the protection of both wildlife and visitors. It is most clearly spelt out when visiting Cousin Special Reserve where the birdlife appears completely unafraid of humans and a respectful distance must be maintained. A similar situation occurs on Aride with the additional aspect of huge numbers of ground-nesting birds making it clearly necessary to keep to the paths to prevent the nests, eggs and chicks from being trampled.
The other sensitive areas are the coral reefs. After the bleaching in 1998, corals are slowly regenerating and it is essential to keep off them, keeping fins well away while diving or snorkelling. The old cliché 'Take only photographs and leave only footprints' still holds true, as does 'Walk slowly, talk softly'.
Part of the responsibility can be proactive and you can join, or make a donation to, one or more of the conservation NGOs. These play a vital and active part in the maintenance and running of many of the island reserves. Several organisations rely on the assistance from volunteers in the Seychelles.
If you prefer, you can become involved with an organisation that benefits children, such as the National Council for Children.