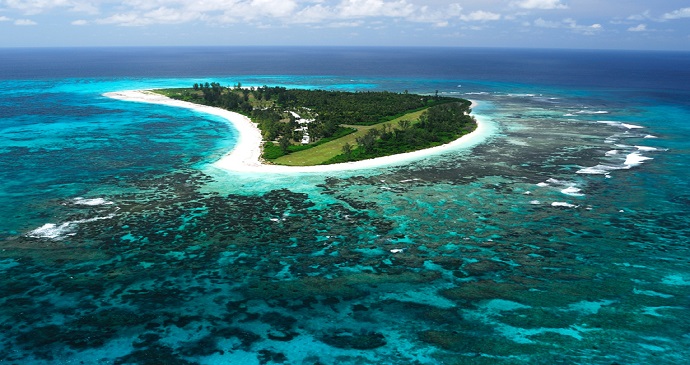 Bird Island, a privately owned wildlife sanctuary © Seychelles Tourism Board
Marvel at sooty tern colonies and the world's largest giant tortoise on this exclusive island.
Remote Bird Island, another privately owned sandy speck in the ocean, lies 105km northwest of Mahé on the edge of the Seychelles Bank. It is, in fact, the most northerly island in the Seychelles, being a mere fraction closer to the Equator than Denis. It covers only 70ha of land, is 1,500m long and 750m wide. Very little is known of the early history of Bird but the first recorded visit was in 1771 when the master of The Eagle charted the island. In 1808, a French privateer, Hirondelle, with 180 people on board, was wrecked on the reef and the survivors remained on the island for three weeks while they constructed a raft, before sailing to Mahé. Bird was originally called Ile aux Vaches ('Island of Sea Cows'), after all the dugongs that grazed on the prolific seagrasses in the clear waters. They have become extinct but the island is still sometimes referred to as Ile aux Vaches and it appears on many maps as such. In 1896, guano was already being mined on the island and 17,000 tonnes were removed between 1900 and 1905. At the end of that phase, coconuts were planted for the copra industry. The present owner bought the island in 1967, an airstrip was cleared, and a small tourist lodge was developed. He declared the island a wildlife sanctuary in 1986 and the lodge was upgraded. Over the years, the lodge has been enlarged and upgraded but it remains a delightful, unpretentious hotel with a blend of hospitality, relaxation and simplicity in a natural environment.