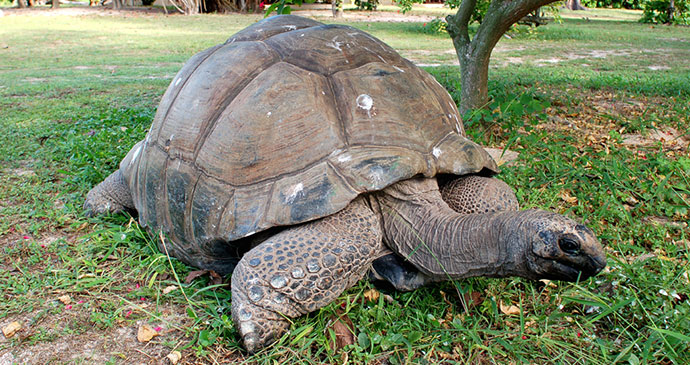 A giant Aldabra tortoise © Seychelles Tourism Board
Get up close with giant tortoises on this remote UNESCO World Heritage Site.
Rugged, rough and remote, this World Heritage Site wilderness atoll has survived the ravages of man over the centuries because of these very characteristics. The harsh and arid nature of the atoll, with its sharp, jagged, limestone terrain and thick, impenetrable vegetation, prevented the full-scale exploitation that beset most of the other Seychelles islands. Although it is not, and never has been, on any regular shipping routes, it was first recorded on early Portuguese charts in 1509, and it is highly likely that discovery by Arab seafarers preceded this date. The evocative name Aldabra probably stems from the Arabic word Al-Khadra meaning green, which could be a reference to the green-based cloud that can sometimes be seen hanging over the atoll, reflecting the colour of the vast interior lagoon.