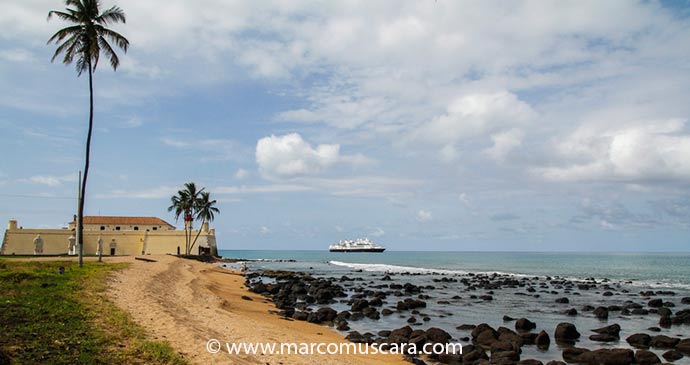 Since 1975, the Museu Nacional has been housed in the striking cream-coloured former fort of St Sebastian, built by the Portuguese in 1576 © Marco Muscarà, www.marcomuscara.com
Established around the wide sweep of Ana Chaves Bay in 1493, São Tomé became the capital of the island when, according to legend, the Portuguese left their first settlement Anambó, 30km further north. Some 50 years after São Tomé was granted city status in 1535 by the Portuguese king, João III, the cathedral and the fort of St Sebastian were built. Today, many of the old colonial buildings, with their carved wooden wraparound balconies running around the houses, arched windows and balustrades are falling down, while others have been restored in pretty bright or pastel colours. With its market traders pulling along a swordfish by its beak, street vendors selling cheap watches, hair bands and brushes, jackfruit sellers, music blaring from a car stereo or a shack shop, and a lot of chat and laughter, the city has a Caribbean feel to it.
Soak up the vibes of bustling São Tomé city: colonial architecture, cool culture and a fabulous chocolate factory, and within a short drive of the city, discover atmospheric plantations, snorkelling and diving, and rainforest hikes.
In the streets, yellow taxis vie for space with buzzing motorbikes and mud-caked jeeps; the pavements are populated with teenagers in baseball caps, businessmen and functionaries in suits. Moneychangers chat on corners; schoolchildren in uniform mingle with older men and street vendors sporting torn and faded election T-shirts and mothers carrying babies in a sling on their backs. Stray dogs rummage in rubbish on dusty streets, black kites divebomb the harbour for fish, while the citizens negotiate the broken pavements on the broad avenues leading towards the odd imposing architectural relic of 1950s Salazarist aesthetics, garden villas and small white stone residences with red tiles.
The sea spray crashes onto the wide boulevard of the Marginal running around the bay, past sandy inlets strewn with black rocks. A short walk out to the other side of the city towards the popular Riboque neighbourhood reveals traditional wooden houses on stilts, humble shacks with zinc roofs propping each other up, and, in between, delicately carved wooden roofs reminiscent of Swiss chalets.
Highlights
Explore the commercial and political heart of the country, see contemporary Santomean art and the collections of the National Museum, and taste your way through local specialities, from fried banana to the national dish, calulu. Dive into the buzz of the market, sip coffee on a seafront terrace, learn how to dance kizomba and stock up on delicious chocolate and coffee. And, within a short drive of the city, discover atmospheric plantations, snorkelling and diving, and rainforest hikes.