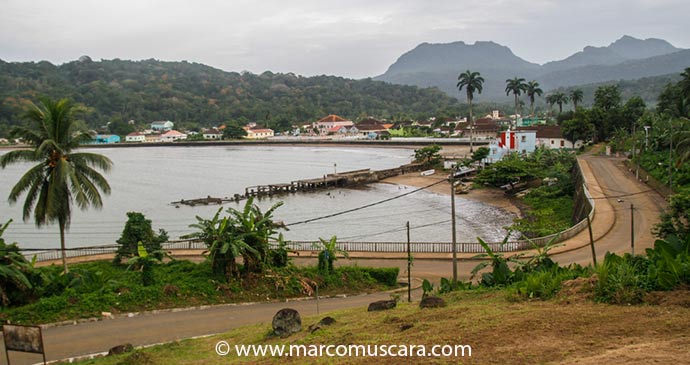 Panoramic views of Santo António bay in the world's smallest city © Marco Muscarà, www.marcomuscara.com
The capital of Príncipe – the smallest city in the world, according to the Guinness Book of Records – is little more than a collection of dilapidated houses and shops in pretty pastel colours along the sluggish Papagaio River, with yawning gaps between them, slowly eroded by the salt air and choked by trees. In the town centre, only the church, the government building and a handful of other pretty 19th-century colonial buildings found around the central square have been restored. Pay a visit to the new Centro Cultural opposite the market, it has a library and offers a chance to meet ambitious and educated locals.
Dance at a discoteca in colourful and charming Santo António, the world's smallest city.
In the centre of town is the Nossa Senhora da Conceição church (tel: 225 1139; open: 18.00 daily, 06.00 & 09.00 Sun). The church, restored in 1940, has a light-blue wooden ceiling and yellow-painted walls. Look for the baptistery font when you come in and the beautiful stone-carved St Anthony to the left of the altar. On the square outside the church is a little stone pillar with a tile showing Santo António. St Anthony (feast day 13 June) is the patron saint of the poor and helps ward off shipwrecks and starvation, and find mislaid items. Close by, at the cemetery, tamarind shrubs with bright red and orange flowers grow amongst the graves.