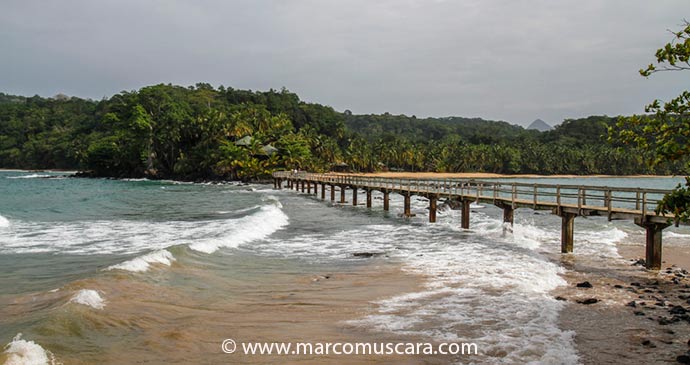 A very photogenic wooden walkway connects the Príncipe mainland to Bom Bom Island, where the resort restaurant, bar and marina are found, with the bungalows and pool area on mainland © Marco Muscarà, www.marcomuscara.com
Bom Bom means 'Good Good' in Portuguese, and this four-star resort in the north of the island, run by HBD – owners of the Omali Lodge hotel in São Tomé and other ventures on the smaller island, such as the Sundy plantation and Praia Macaco – is truly a slice of paradise. A very photogenic wooden walkway connects Bom Bom Island where the restaurant, bar and marina are found, with the bungalows and pool area on mainland Príncipe. If you are coming straight to the resort on a charter flight without passing through São Tomé, visas can be arranged online.
Flying fish will be your constant companions, propelling themselves out of the boat's path to whir across the waves for up to 300m, as you explore Príncipe's Biosphere Reserve from the lap of luxury that is the Bom Bom Island Resort.
If you're staying at budget accommodation in Santo António, you can still treat yourself to a day or just dinner at the Bom Bom Island resort. The €20 entry fee to the resort, including use of the beach and pool, is usually waived if you buy a meal or similar; the day-rate for entrance, including transfers, lunch and access to a bungalow for the day, is €85. Budget travellers wanting to get to the resort for some early-morning birdwatching or to spend the day there can only visit at management's discretion; costs for a minibus from Abade or other plantations range between €10 and €20.
Around the island there are beautiful rock pools with different ecosystems hosting coral and an array of small tropical fish. Around the pier, yellowtail sardinella/ goatfish (grey with yellow) can frequently be seen. At night-time, watch you don't step on the large land crabs, with a span of up to 20cm.
Maybe understandably, some tourists never make it out of Bom Bom but, considering how far out you've come, it would be a shame not to spend a leisurely half-day at least looking around Santo António or the plantations, organised through the resort or by yourselves.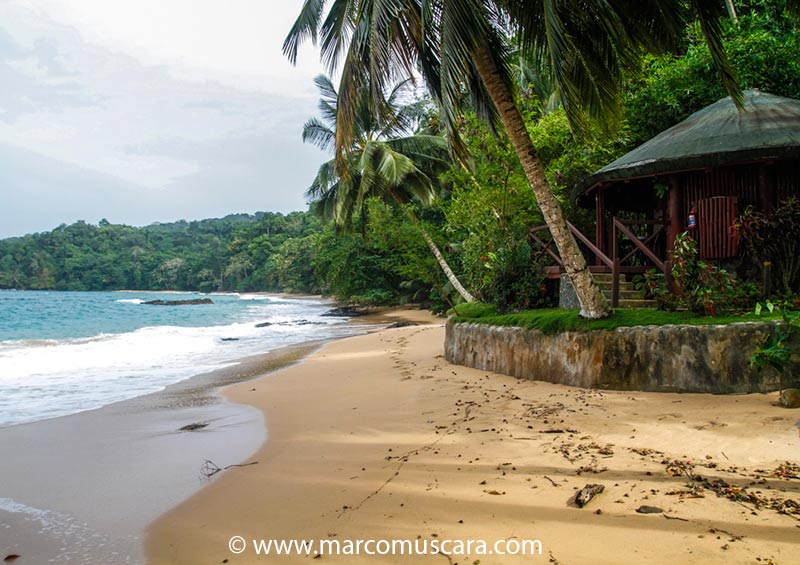 Relax in a bungalow on the beach at Bom Bom island resort in Príncipe, which truly feels like a slice of paradise here © Marco Muscarà, www.marcomuscara.com
What to see and do
There are a wealth of activities that can be organised through the resort. You can go snorkelling and dolphin watching, take a workshop in nature photography, kayak to a fishing village, go gorge swimming, and enjoy a (seasonal) turtle trip, or rainforest and coastal walks. It's also possible to join an excursion to some of the island's plantations, such as Ribeira Izé with its ruins of a 400-year old church, or a working roca tucked-away amongst huge oka trees. Check the resort website for details of excursions, which should be booked 12 hours in advance.
Birdwatching
The resort is a great birdwatching base. You will quickly meet the resort's tame grey parrot, Chaplin, and both the blue-breasted and white-bellied kingfisher can often be seen flitting around the compound. An early morning walk before breakfast is the easiest way to encounter many of the island's endemics. Joining a 2½ hour walk with a group from the UK, I was able to see golden weavers, Príncipe starlings, bronze mannikins, Príncipe drongos, Dohrn's thrush-babblers (some of the most vocal birds on the island). We also saw swallowtails and beautiful dragonflies. Don't forget to look down, too, for instance for the fascinating Príncipe blue-speckled mudskipper ('walking fish') that might be stretching motionless across a twig in a puddle just alongside the access road.
Boat trips
All year round the resort has boats available to visit a beach (the most popular being Banana Beach, 25 minutes away) or for whale or dolphin watching – though sightings are not guaranteed. Depending on the weather, the experience can be very different: during one grey, rainy birdwatching expedition I got soaked to the core peering out over the waves at indistinct moving shapes but the next day, on a three hour excursion, we saw different pods of humpback whales around Jockey Cap Island, as well as plenty of dolphins and birds.
Morning boat trips usually leave the jetty around 09.00, afternoon boat trips at 14.30. Be punctual as departures don't run on 'African time'. Flying fish will be your constant companions, propelling themselves out of the boat's path to whir across the waves for up to 300m. Ruffled brown boobies sit on the Pedra de Galé offshore rocks, and you might see storm petrels on the way to the Misterioso islets – one has a lighthouse, the other is just a small group of rocks popular with nesting noddies and tropicbirds. For a fun photo, strap yourself into the marlin-fighting chair. If you're not staying at the resort but would like to take a trip, it might be worth asking around to find other travellers to share with, to bring the price down.
Diving
An average water temperature of 26°C, average visibility of 20–30m and excellent dive sites only a 20-minute boat ride away make the resort a great diving base. Whilst beginners can take advantage of calm waters, experienced divers can go down to a depth of 30m. PADI courses for groups and individuals can be arranged once a decompression chamber is set up on the island – however, as of recently, there were no concrete plans. The water is clearest December to March.
Snorkelling
Hiring a mask, snorkel and fins is free for guests and included in the day visitor's rate for non-residents. On the Praia Santa Rita beach, check out the reef to the left, where you can see West African butterfly fish and parrotfish. On an ambitious two-hour snorkelling trip around Bom Bom (watch out for currents) you have a good chance of seeing barracuda, sharks, turtles, golden African snapper, the largest of the snapper family the cubera snapper, and the yellow jack, all year round. You will find shoals of small yellowtail sardinella swarming around the pier.
Sport fishing
The resort holds seven International Game Fish Association (IGFA) world records from the early 1990s, amongst them a 52kg Atlantic sailfish, locally called peixe andala, in the Line Class, and a 27kg barracuda in the Saltwater Fly Rod class. As well as marlins weighing 150–400kg, you can catch yellowfin tuna weighing 20–45kg, wahoo, barracuda, rainbow runner and jacks. True to the Billfish Foundation motto, though – 'No Marlin on the Menu' (www.billfish.org) – marlins are always released after being caught. The two 8.5m True World marine boats are equipped with 11kg and 23kg Shimano tackle and 36kg Penn International. The dry season, with southern breezes of 10–25 knots, is the best time to come. Chief skipper, Argentino has been with Bom Bom for a quarter of a century.