You enter this plantation on Príncipe through a picturesque fairytale, if slightly askew, crenellated entrance gate, with an old rusty cannon outside.
The casa grande is a double-storey mansion with arched windows and doors and bare wooden floors, with a large slave bell in one corner. From spring 2014 you can stay overnight on the plantation, as it has been turned into a luxury plantation experience, under the supervision of Zimbabwean Henry Cronje, who fell in love with Príncipe. The inhabitants were resettled in two dozen purpose-built houses next door.
A short walk south from the plantation leads to a telecommunications mast with a viewpoint for Praia Macaco. What most visitors do, though, is head north for a sweeping balustrade terrace, the miradouro, the best viewpoint for Banana Beach, also reached after only about ten minutes. A guide once told me of his father relating to him the atrocities of the colonial era that happened here, of men being tied up and thrown over the balustrade. A track leads down to the beach (maybe a 15-minute walk), and from there you can carry on walking along the coast.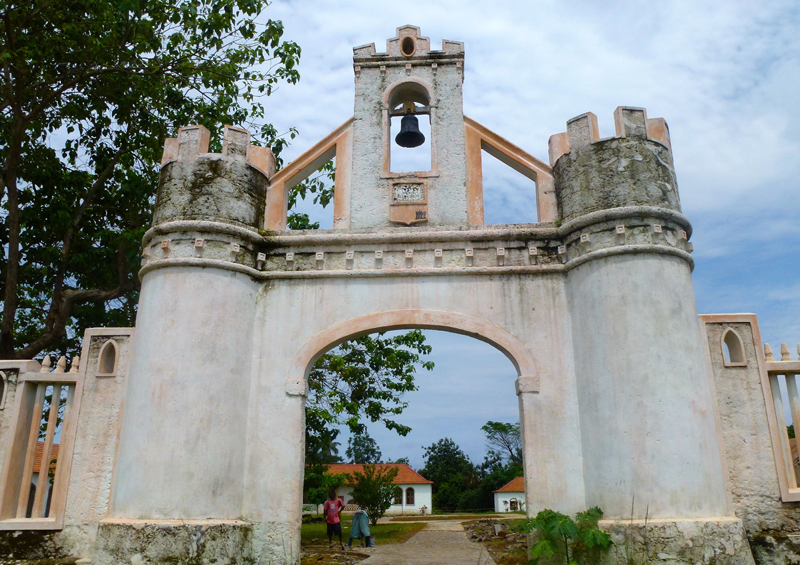 The picturesque fairytale, if slightly askew, crenellated entrance gate to the Belo Monte plantation © Kathleen Becker
I've found people here to be very friendly and chatty, and it shouldn't be difficult to arrange a guide. The beach down the other side is the black-sand Praia Preta, and the local name for the conical mountain behind is Pico Mae ('mother').
To reach Belo Monte from Santo António, head out towards the airport, but take a right at the tarmacked turn-off, going through a village. The tarmac soon turns into a red dirt road, only negotiable by 4×4. At the first fork in the road, take a right (the left-hand track leads to lovely Roça Paciencia).