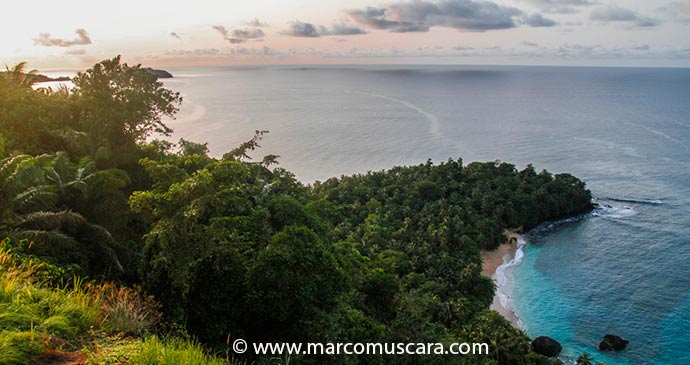 Sunset at Banana beach in Príncipe © Marco Muscarà, www.marcomuscara.com
This is Príncipe's most famous beach – perfect for swimming, with white sand curving in a banana shape around turquoise waters. The easiest way to visit is to stay at Belo Monte. Another way of exploring the beach is on a 25-minute boat trip from Bom Bom.
Take a picnic and snorkel set to easily accessible Banana Beach.
You can also hitch a ride or hike to Belo Monte and walk down from Belo Monte in about 25 minutes, via the miradouro (viewpoint). A famous ad for Bacardi rum was filmed at this beach. On a recent visit we came across pieces of tortoiseshell, pointing to the fact that for all its UNESCO Biosphere status, turtles are still being hunted here.