Authors' take
Deep in the misty forest, you finally come upon your quarry. It might be a young female attempting to climb a liana, soft black coat comically fluffed-up as it demonstrates the arboreal incompetence of this most sedentary of apes. Or perhaps a barrel-headed silverback, no taller than an average human, but thrice as bulky, delicately shredding a succulent stick of bamboo as it sits peaceably on the forest floor. Or a curious mother, taking two paces forward then raising its head in your direction to stare questioningly into your eyes, as if seeking a connection. Or maybe a young male putting on a chest-beating display for your benefit, safe in the knowledge that this naked ape won't challenge its dominance. No two gorilla encounters can be exactly the same but, as anybody who has looked into the liquid brown eyes of a wild mountain gorilla will confirm, it is always an awesome experience – inspirational, emotional, and profoundly satisfying.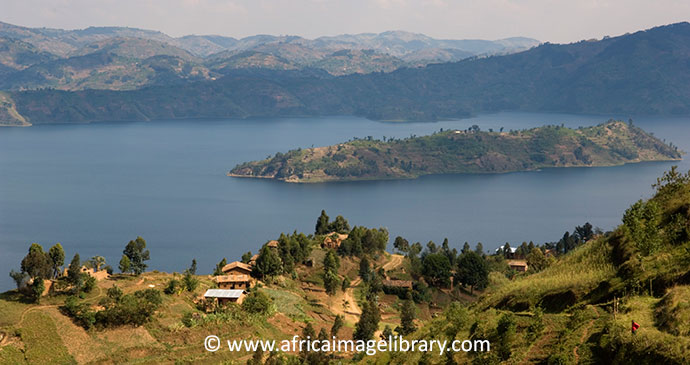 Rwanda is the world's premier gorilla-tracking destination. It was here, on the southern slopes of the Virungas, that the late Dian Fossey studied gorilla behaviour for almost 20 years, and on these very same bamboo-covered slopes that the acclaimed movie Gorillas in the Mist was shot in 1988. At that time, Rwanda was entrenched as the place to see mountain gorillas, and tourism had become its third main source of foreign revenue. All else being equal, that should have been the start of Rwanda's emergence as a truly great ecotourism destination. Instead, the country was destabilised by a protracted civil war that started in 1990 and four years later reached its horrific climax: the 1994 genocide that claimed the lives of one-eighth of its population, and forced almost twice as many to flee into wretched makeshift refugee camps in Tanzania, Uganda or the Congo.
This is nature in the raw: the muddy forest floor scattered with elephant and buffalo spoor while birds and monkeys chatter overhead and spiteful nettles lie waiting in the margins.
In the restless eyes of the international mass media, the likes of Rwanda are deemed newsworthy only when disaster strikes. The moment things calm down, cameras and correspondents shift their attention to the next breaking crisis. And so it was that, once the genocide had been quelled by the Rwanda Patriotic Front after barely 100 days, interest faded and the world largely ignored the country as it embarked on its long and arduous road to normalisation – miraculously, a path from which it has barely deviated in 18 years. For a long while, like Uganda after Idi Amin or Ethiopia after the 1985 famine, it remained known to most outsiders only for the genocide. Today, with its energetic programmes of recovery and reconstruction, it is widely considered to be among the most economically buoyant and politically enlightened African countries.
Few could travel through Rwanda and not be cognisant of the terrible events of 1994. Indeed, almost every town and village houses a genocide memorial paying respect to the massacred, whilst also highlighting the survivors' determination that such atrocities should be neither forgotten nor repeated. However, for potential visitors it is more important to dwell on the future and the capacity of tourism to stimulate economic growth and nurture political stability.
Some figures. In 1999, when Volcanoes National Park reopened for gorilla tracking, it attracted fewer than 2,000 visitors, most of them backpacking or on overland trucks making a pit-stop visit from Uganda. By contrast, in 2011 an estimated 666,000 tourists visited Rwanda and tourism is now the country's largest source of foreign revenue, contributing more than US$200 million to the annual GDP and providing direct or indirect employment to over 350,000 people.
So if you've ever dreamed of tracking gorillas on the same misty slopes once trodden by Dian Fossey or Sigourney Weaver, go to Rwanda. And while you're about it, don't forget that there is much to see there besides gorillas. The mountain-ringed inland sea that is Lake Kivu; the immense Nyungwe Forest National Park with its chimpanzees, monkeys and rare birds; the wild savannah of Akagera National Park – and, perhaps above all, the endless succession of steep cultivated mountains that have justifiably earned Rwanda the soubriquets 'Land of a Thousand Hills' and 'The Switzerland of Africa'. It's a wonderful place to visit.
Co-author's story
Janice Booth
Forty years ago a young Rwandan wrote to me from Uganda; he was studying there, despite the tough nature of life as a refugee, because Tutsis (like him) had a hard deal in Rwanda at the time. Copying my address from the back of a letter I'd written to someone else, he announced that we were going to be friends.
Cynically I expected a follow-up request for money, but I was wrong. Aged just 20 (half my age at the time), he kept his promise, and once or twice a year would write with scraps of news. Life was clearly a struggle, but he didn't complain.
After qualifying in electrical engineering he went home to Rwanda, writing delightedly 'Janice, I have a family again!' He got work, and set about paying his younger siblings' school fees. Proud of his country, he sent me a postcard of Akagera that I still have. I felt I had become a kind of honorary aunt. He carefully didn't mention politics, but I knew things weren't good. In October 1990 he was (with other Tutsis) thrown into prison for around three months, and wrote afterwards: 'So many died, of the hunger and the beatings'. Much later I learned that these included his partner, with whom he had a baby daughter.
One of his sisters was completing secondary school and I wrote wishing her luck in her final exams; she replied in good French. Later he sent a photo of her at her graduation in 1992, with him, two brothers and a teenaged sister. Bit by bit I was meeting the family.
In the summer of 1993, he wrote that he planned to get married, asking 'How do you see that, Janice?', and I replied that it was great news. His bride, in a fuzzy wedding snap he sent, was beautiful. We exchanged letters as usual that Christmas, while the country's condition worsened. Then, on 6 April 1994, it exploded into genocide. No more letters came, and eventually I assumed he hadn't survived.
As the years passed, I tried – but failed – to get news of his family. Finally, in 2000, I booked a flight to Kigali: my first visit to Rwanda, portrayed by the disaster-loving media as still damaged, violent and volatile.
In fact Kigali when I arrived seemed calm and safe; while the countryside, as I rattled around it in local minibuses, stunned me with its beauty and laid the foundation for this guidebook. And people helped, checking leads for me until news finally emerged.
My friend had indeed died, as had his wife, their newborn baby, the sister I'd written to and other relatives. But I met survivors too, including his ten-year- old daughter, two brothers, and the young sister from the graduation photo. I paid her university fees and later went proudly to her wedding. We're still regularly in touch and she, her husband and their three lively daughters are a delight to visit. My friend's daughter is now a beautiful young woman, whose smile – I'm told – is very much like his. Their story, with its tragedy and subsequent success, mirrors that of Rwanda itself.
Neither I nor the young student of forty years ago could have imagined the outcome of the friendship he proposed; but I still feel so very lucky that he wrote that first letter, and welcomed me into his life.