The top cultural site of Rwanda's second city, the National Museum of Rwanda provides a rich insight into Rwandan history and traditional cultures.
If you're in Huye, do allow time to visit this beautifully presented collection of exhibits on Rwandan history and culture. As you approach Huye on the Kigali road, you'll see its colourful fence on the right. Opened in 1988, and presented to Rwanda as a gift from Belgium's King Baudouin I, it is situated on more than 20ha of land containing indigenous vegetation and a traditional craft training centre as well as the main 2,500m² museum building, whose seven spacious rooms illustrate the country and its people from earliest times until the present day. At the reception desk, various English-language pamphlets and books are on sale, and most displays are labelled in English as well as Kinyarwanda.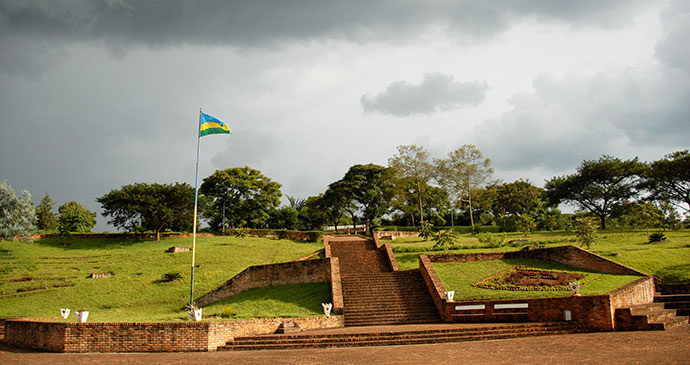 Room 1 (the entrance hall) has space for temporary displays as well as numerous shelves of traditional handicrafts for sale. Room 2 presents a comprehensive view of Rwanda's geological and geographical background and the development of its terrain and population. In Room 3 the occupations of its early inhabitants (hunter-gathering, farming and stock-raising) are illustrated, together with the later development of tools and methods of transport. The social importance of cattle is explained and there are even detailed instructions for the brewing of traditional banana beer.
Room 4 displays a variety of handicrafts and the making of traditional household items: pottery, mats, baskets, leatherwork and the wooden shields of the Intore dancers. Room 5 illustrates traditional styles and methods of architecture – and a full-scale royal hut has been reconstructed. In Room 6 traditional games and sports are displayed and more space is given to the costumes and equipment of the Intore dancers. Finally, Room 7 contains exhibits relating to traditional customs and beliefs, history, culture, poetry, oral tradition and the supernatural.