Although bustling, colourful and noisy, Kigali is much safer and cleaner than most of Africa's others, with plenty of tree-lined streets inviting you to take a stroll.
The low-key but attractive Rwandan capital city of Kigali stands in the centre of the country, where it straggles over several hills and valleys, spanning altitudes of around 1,300m to 1,600m. The city was founded in 1907 at a location chosen by Dr Richard Kandt, who built an administrative residence close to the presentday Gakinjiro Market. Two years later, 20 further houses were built (one of which has been restored as a history museum) on the eastern slopes of Nyarugenge Hill, which now forms the commercial city centre.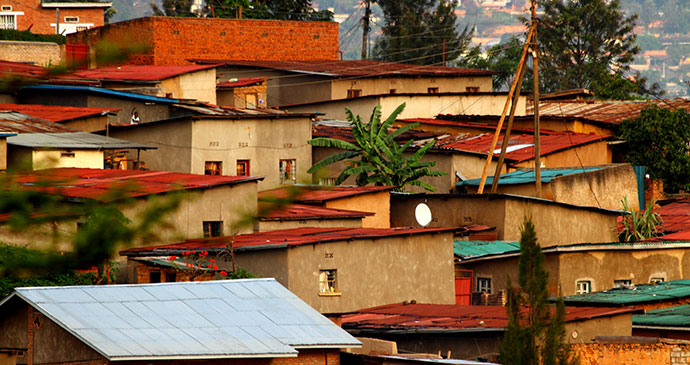 Kigali remained a small and isolated colonial outpost until 1916, when Belgium ousted Ruanda-Urundi's German colonisers. Under Belgian rule, Kigali retained an important administrative role, but urban growth was very slow and confined mainly to Nyarugenge. Indeed, when Rwanda gained independence in 1962, the population of Kigali stood at no more than 6,000. When Ruanda-Urundi (the capital of which was Usumbura, now named Bujumbura) split into Rwanda and Burundi, the strongest contender to become Rwanda's new capital seemed to be Butare (now known as Huye), which had been the more important administrative centre during colonisation.
However, Kigali's central position and good road links to the rest of the country won out. As a result, while Huye has avoided capital-city brashness and remains relatively calm, Kigali has grown dramatically, with the 2012 census returning the city's first-ever million-plus population count of 1,132,686 people. The commercial city centre is still on Nyarugenge Hill, while the government and administrative quarter is further east on Kacyiru Hill. Between and around these elevated twin centres, empty spaces on the hillsides are filling with new housing, and pollution in the valleys (from the increasing volume of traffic) could soon be a problem.
The centre of Kigali is bustling, colourful and noisy, but impressively clean and safe (indeed, in 2008, Kigali was effectively pronounced the cleanest city on the continent, when it became the fifth the Habitat Scroll of Honour award, an annual award launched by the UN Human Settlements Programme in 1989). However, it is undergoing rapid development and change, with shiny new shopping malls, hotels and office buildings springing up all over the city; most recently, the construction of a huge new US$12.9 million city hall, and the even larger, US$300 million Kigali Convention Centre, replete with its own five-star hotel, office park and cavernous conference facilities, which was inaugurated in 2016. And while this is all well and good for Kigali's increasingly striking skyline, it remains to be seen if the city's green credentials survive all this development.