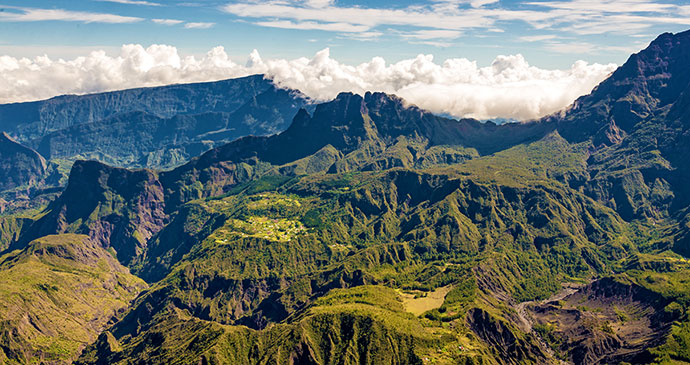 View of the Cirque de Mafate from the Maido © bjul, Shutterstock
Cirque de Mafate
Spanning 72km2, Mafate is the smallest and most tropical of the cirques. On its northern rim is the Plaine d'Affouches, which overlooks St-Denis and the north coast. On its western rim is Piton Maïdo (2,190m), which overlooks the dry west coast. To its south lies the Cirque de Cilaos.
Mafate is a wild, sparsely inhabited, mystifying place. Its name has suitably intriguing origins: it is said that a Malagasy sorcerer and runaway slave, named Mafaty (meaning 'dangerous one'), lived at the foot of Le Bronchard (1,261m). He was eventually caught in 1751 by François Mussard, a bounty hunter.
The cirque's first inhabitants were indeed runaway slaves after the agricultural colonisation of the island in the 1730s, then the Créoles Blancs (White Creoles) arrived following the abolition of slavery in 1848. Today, approximately 650 people reside in remote mountain hamlets, such as Marla, La Nouvelle and Aurère. They live off the land, in virtual isolation from the outside world. There are no roads, just 100km of walking trails. Supplies such as medication are brought in by helicopter, yet many of the Mafatais have never seen a car.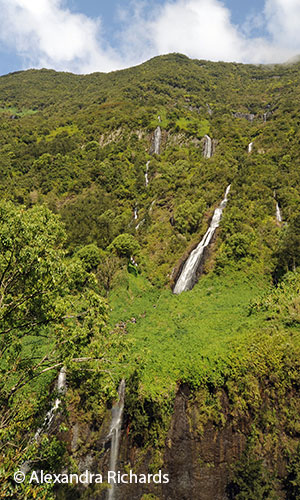 Cirque de Salazie
The largest of the cirques, Salazie measures about 12km by 9km and has a population of about 8,000. Its name comes from a Malagasy word meaning 'good place to stay'.The cirque was only settled by European farmers during the mid 19th century, after a hot spring was found at Hell-Bourg. A military hospital was established in 1860 to treat soldiers wounded during unrest in Madagascar. Thanks to its pleasant climate, Hell-Bourg became a popular place for coastal inhabitants to visit during the hot months. In 1948, a severe cyclone somehow destroyed the hot spring and Hell-Bourg was all but deserted until 1980, when the government realised its potential value for culture and nature-oriented tourism.
Cirque de Salazie is the greenest of the cirques and has no fewer than 100 waterfalls, which drop down incredibly high, steep gorges. Réunion's best-known waterfall, the exquisite Voile de la Mariée, or 'Bridal Veil', is in this cirque. Salazie is the most accessible of the cirques, a picturesque 20-minute drive from St-André.
Cirque de Cilaos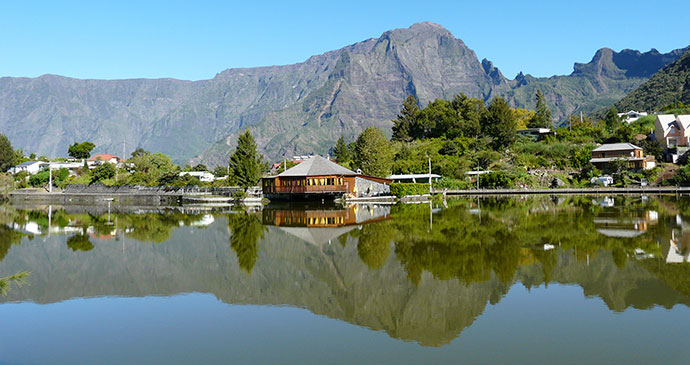 Cilaos © Serge Gelabert/ Ile de la Réunion Tourisme
The name 'Cilaos' is derived from a Malagasy word meaning 'the place you never leave'. This is the southernmost and driest of Réunion's cirques, covering roughly 100km². It lies between the island's two highest peaks: Piton-des-Neiges (3,069m) and Grand Bénard (2,896m). Where remote mountain hamlets now nestle on small, flat plots called ilets, runaway slaves once sought shelter.
About 10,000 people live in this cirque, where the climate is conducive to cultivation of lentils (for the nationally popular cari dishes), vineyards (for local wine production) and tobacco. The climate is widely renowned as the healthiest of all Réunion's microclimates and the thermal springs there are said to have healing properties. Note that evenings, even in summer, can be very cold, whilst the days are normally pleasant, with sunny mornings. Ordinarily, a cloak of mist descends on the town by about 15.00, adding to the dreamy ambience.