One of the world's most active volcanoes, Piton-de-la-Fournaise is often considered Réunion's most striking attraction.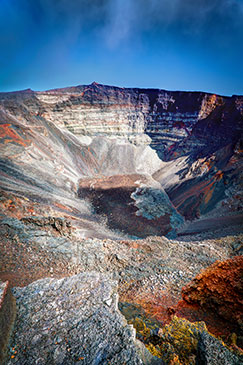 Most people consider this to be Réunion's single most striking attraction. Piton-de-la-Fournaise (Furnace Peak) is one of the world's largest and most impressive shield volcanoes, reaching 2,631m. It is also one of the world's most active, having erupted a number of times in recent years. As activity can last for two weeks or more, the eruptions draw crowds of spectators (at least 20,000 came to see the eruption that began on 8 March 1998).
The drive to the volcano is an adventure in its own right. From La Plaine-des-Cafres you climb through an Alpine landscape dotted with cows sporting cowbells, which look as if they should be advertising Swiss chocolate. There are several spectacular viewpoints, including the panorama of Piton-des-Neiges looming over La Plaine-des-Cafres, and perhaps most striking of all, the view of La Vallée de la Rivière des Remparts at Nez de Boeuf. This valley, which stretches for 23km, is lined by cliffs rising up to 1,000m and looks almost tunnel-like as you peer down into it. And then you catch sight of a lone village on the valley floor, Roche Plate, and are left wondering how people manage to live in such isolation. Certainly, according to the information board at the viewpoint, life is not easy for those villagers, who battle cyclones and landslides on a regular basis.
(Photo: View of the Dolomieu Crater © infografick, Shutterstock)
The landscape becomes gradually stranger until you begin your descent to the barren moonscape that is La Plaine des Sables, preceding the volcano crater. Then it's an uphill stretch to Pas de Bellecombe (2,311m), which offers a fantastic view of the volcano and outer crater. There is a kiosk displaying information on the volcano and the walks, which is worth reading before you set off as it indicates the routes and their level of difficulty. The building also contains toilets and sells drinks. You can leave your car in the car park whilst you walk. It is best to set off as early as possible in the morning when the skies are clear because in the afternoon the clouds roll in like a thick fog. You will walk across solidified lava, so take care and make sure you have suitable footwear. Water, some food, suncream and a sunhat are essential, as is some warm clothing. For safety reasons, it is important that you stick to the marked paths.