Author's take
Glance around. The Namib Desert has plants and animals found nowhere else on earth. Here is the world's oldest desert, where endemic wildlife has evolved to survive…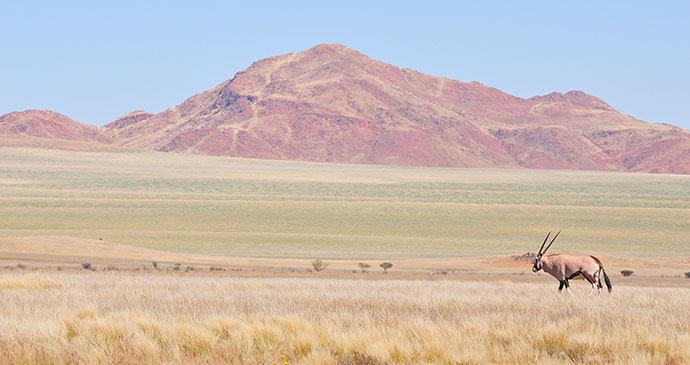 The Namib's largest mammal, the oryx, can be found throughout Namibia, from the coast to the interior highlands © Grobler Du Preez
Namibia has no idyllic sandy beaches, no warm tropical waters or big brassy hotels. However, it does have huge tracts of pristine wilderness, home to some stunning wildlife. Glance around. The Namib Desert has plants and animals found nowhere else on earth. Here is the world's oldest desert, where endemic wildlife has evolved to survive – like the contorted Welwitschia mirabilis that lives for millennia, the elusive golden mole and the unique fog-basking beetles.
Namibia's population has always been tiny, a sprinkling of settlements founded by different peoples: some ancient, some colonial. Around these outposts, vast open areas remain protected as national parks, supplemented by conservancies where scattered local communities protect the wildlife in their own areas. Namibia has little industry or pollution, so you look up at the clearest stars you'll ever see.
Best of all, Namibia's wilderness is still easy to explore independently. Choose back roads here and you can drive for hours through endless plains, huge mountain massifs and spectacular canyons without seeing a soul. Even in Etosha, one of Africa's top game parks, driving around is easy, and you can stop beside the waterholes for as long as you like. As animals wander all around, you just sip a cold drink and focus your camera.
Good food, wine, beer and cheap camping make the cost of staying in Namibia lower than anywhere else in southern Africa.
Namibia's not an ideal country for backpacking. However, if you can afford to hire a car, then the country is your oyster – and it's not expensive. With just a little more cash to spare, and advanced bookings, you'll find Namibia's lodges, camps and guest farms cost a fraction of the price of similar places elsewhere in the region. Here you can afford comfort and expert guides who will help you discover their own areas, instructing you in everything from tracking black rhino to understanding the native flora.
In the last 30 years I've been lucky enough to make dozens of trips back to Namibia. I've watched tourism gradually develop and change – and on the whole it's done so positively. While there are more visitors now, these are exploring more destinations within Namibia, so the country still seems empty. There are many new lodges and guest farms, but these are spread widely and most remain small, offering personal attention and unique attractions.
Namibia is still not a mass-market destination, and there's no sign that it will be. The contribution to the economy made by visitors is increasing, and the government recognises its importance – which is vital if the wild areas that attract visitors are to be conserved. Even more importantly, the people living in those remote, rural areas are also benefiting from tourism. The Kaokoveld, in particular, is home to some thriving community projects – successes that are rare in most parts of Africa. Elsewhere, new conservancies are sprouting up, where neighbouring farms join forces and return wild game to their land, replacing domestic animals.
Just as Namibia is evolving, so are the ways to travel. At first, flying around was strictly the preserve of those who could afford to charter their own plane. They knew that Namibia's landscapes are often most spectacular from the air, and that flying around gives a whole new perspective on the country. Now it has become more accessible, with tour operators tailor-making fly-in trips around the country, and charging per seat, not per plane. These hops between lodges remain more costly than driving, but they are breathtaking, and allow easy access to even the remotest corners of the Skeleton Coast and Kaokoveld.
So Namibia and trips there are changing. Travel there is also changing on a personal level: since the last edition of this book was published, I have taken my children (now aged six and nine) there several times. Every time I go, I am again surprised at the ease of travel in Namibia, and seeing it through their eyes I'm reminded just how remarkable this country is.
Author's story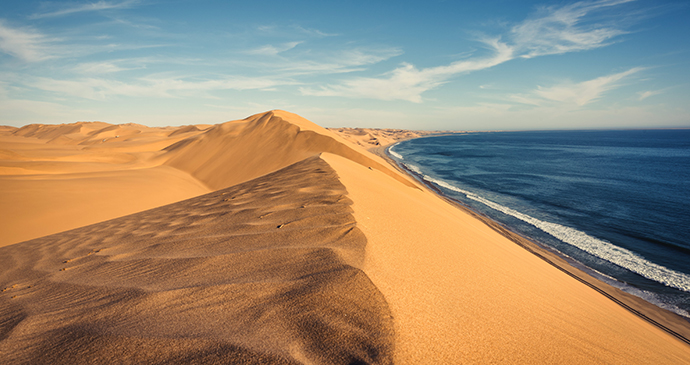 The Skeleton Coast is a barren line between an icy, pounding ocean and the Namib Desert © WJRVisuals, Shutterstock
I first visited Namibia in 1989, as the South African administration started to relinquish its grip and the country prepared for independence. By then I had lived in Zimbabwe for several years and travelled widely. Namibia was rumoured to be wonderful; but nobody seemed to know any details. The world knew South West Africa (Namibia) only as a troubled place from news bulletins, nothing more.
So I hired a VW Golf and drove from Namibia's northeastern tip to its southern border in 12 days. Overseas tourism simply didn't exist then. Sesriem had one campsite with just 11 pitches for tents; the Fish River Canyon was deserted. The trip was terribly rushed, but Namibia captivated me. The scale of its wilderness was enchanting, and travelling was remarkably easy.
Six months later I returned to explore – and to research the first English guidebook to the country. While I was there, Namibia's independence arrived, putting the country's troubles into the past. Optimism was tangible, justified by democracy, an implausibly reliable infrastructure and rich mineral resources. I delved a little deeper into its magic and remained entranced. It was this that inspired me to start a travel company, originally focusing on Namibia, and I'm very grateful to be able to keep in close contact with a country that I still love.