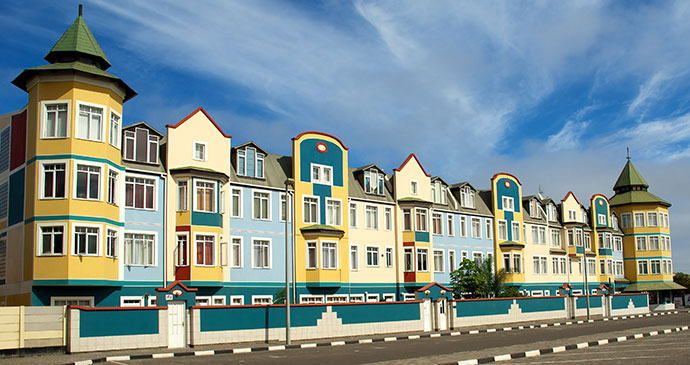 Swakopmund is home to palm-lined streets with immaculate buildings © hannes-vos, Shutterstock
Swakopmund has become a lively centre for adventure-sports, attracting those in search of action and extra adrenalin.
Considered by most Namibians to be the country's only real holiday resort, this old German town spreads from the mouth of the Swakop River out into the surrounding desert plain, and is climatically more temperate than the interior. The palm-lined streets, immaculate old buildings and well-kept gardens of the centre give Swakop (as the locals call it) a unique atmosphere, and make it a hugely pleasant oasis in which to spend a few days.
Unlike much of Namibia, Swakopmund is used to tourists, and has a wide choice of places to stay and eat, and many things to do. The town has also established a name for itself as a centre for adventure travel, attracting visitors seeking 'adrenalin' trips to take part in options ranging from free-fall parachuting to dune-bike riding and sandboarding. This is still too small to change the town's character, but is enough to ensure that you'll never be bored. On the other hand, visit on a Monday during one of the quieter months, and you could be forgiven for thinking that the town had partially closed down!