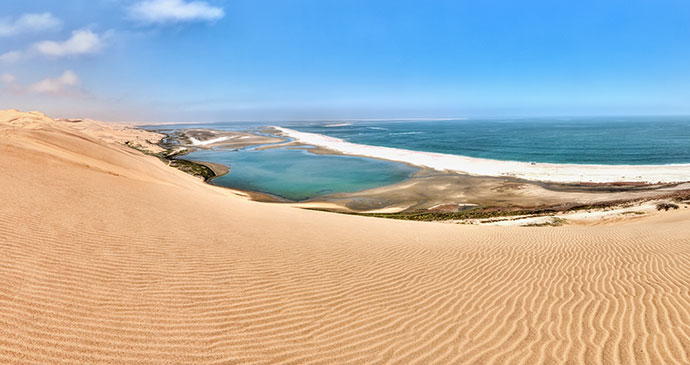 The extensive mudflats of Sandwich Harbour © Marcin Sylwia Cieiselski, Shutterstock
Where else can you walk alone along a pelican-covered beach while pink flamingos glide above the sand dunes?
This small area about 45km south of Walvis Bay has a large saltwater lagoon, extensive tidal mudflats and a band of reed-lined pools fed by freshwater springs, together forming one of the most important birdlife refuges in southern Africa. Typically you'll find about 30 species of birds at Sandwich. It offers food and shelter to thousands of migrants every year and some of Namibia's most spectacular scenery – for those lucky enough to see it. It's worth climbing up one of the dunes, as from there you can see the deep lagoon, protected from the ocean's pounding by a sandspit, and the extensive mudflats to the south, which are often covered by the tide.