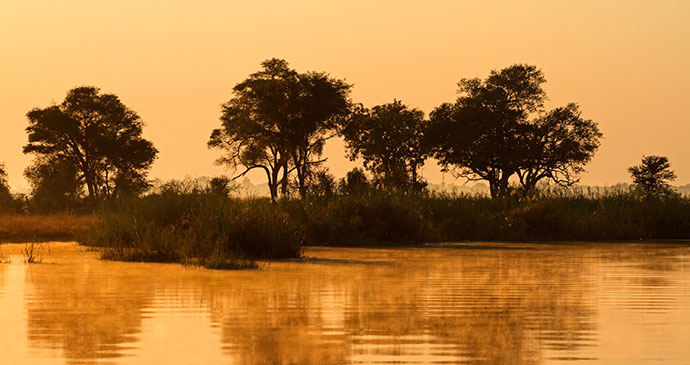 Locals refer to sections of the Kwando above Lianshulu as 'the Mashi' © ecoprint, Shutterstock
Activities in this region include boat cruises on the Kwando River, guided bushwalks (with the chance of seeing sitatunga) and game drives into the park.
The southern border of the eastern Zambezi Region is defined rather indistinctly along the line of the Kwando, the Linyanti and the Chobe rivers. These are actually the same river in different stages. The Kwando comes south from Angola, meets the Kalahari's sands, and forms a swampy region of reedbeds and waterways called the Linyanti swamps. These swamps form the core of Nkasa Rupara National Park. In good years the Linyanti River emerges from here and flows northeast into Lake Liambezi, from where it flows out from the eastern side as the Chobe River. This beautiful river has a short course before it in turn is swallowed into the mighty Zambezi, which continues over the Victoria Falls, through Lake Kariba, and eventually discharges into the Indian Ocean in Mozambique.
To the west of the Kwando River, inside Bwabwata National Park's Kwando Core Area, is a narrow tract of land that is wide in the north, but becomes narrower towards the Botswana border. Known variously as 'the Triangle', 'the Susuwe Triangle' or 'the Golden Triangle', it is rich in wildlife.