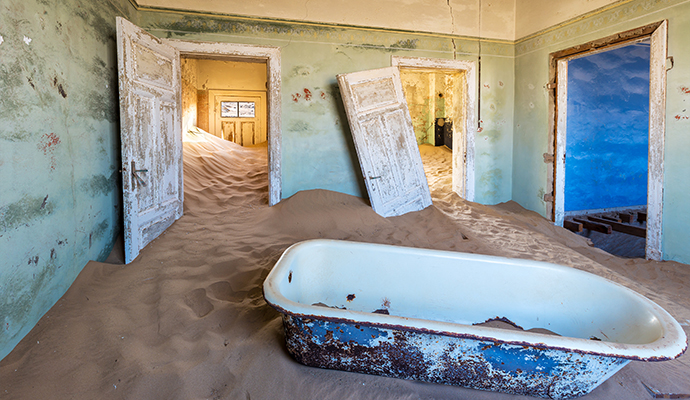 The abandoned buildings in this old mining town are slowly being taken over by encroaching sand dunes © Kanuman, Shutterstock
Abandoned for almost half a century, Kolmanskop is now home to nothing but the sand dunes which have overwhelmed this once-booming industrial town.
This ghost town, once the principal town of the local diamond industry, was abandoned over 60 years ago and now gives a fascinating insight into the area's great diamond boom. Many of the buildings are left exactly as they were deserted, and now the surrounding dunes are gradually burying them. In its heyday, the town was home to over 300 adults and 44 children, and luxuries included a bowling alley, iced refrigerators and even a swimming pool. A few of the buildings, including the imposing concert hall, have been restored, but many are left exactly as they were deserted, and are gradually being buried by the surrounding dunes.
In a room adjacent to the concert hall, there is a simple café-style restaurant. Do make time to look at the photographs that adorn the walls, from early mining pictures to some chilling reminders of the far-reaching effects of Nazi Germany. A century since diamonds were first discovered here, it's now possible to buy diamonds in the 'Diamond Room', with prices upwards from N$500. There's also a display charting the history of the diamond boom and the people with whom it is inextricably linked.