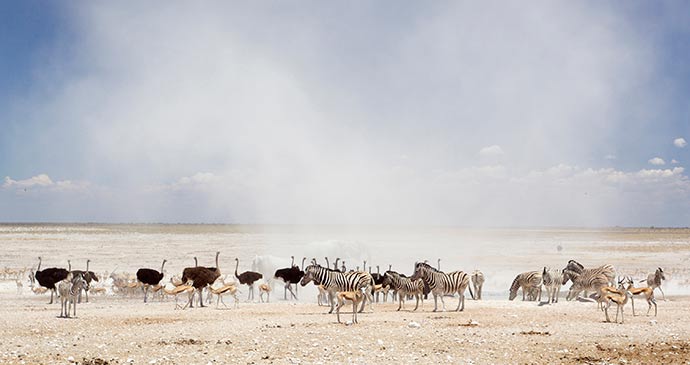 Namibia's 20 national parks, game reserves and other state-protected areas cover over 140,000km², or around 17% of the country's total land area © Yathin S Krishnappa, Wikimedia Commons
Over 40% of Namibia's land falls under private or state protection. There are very few countries in Africa where land is being returned to a more natural state … and so Namibia is a great success story.
Translated as the 'Place of Mirages', 'Land of Dry Water' or the 'Great White Place', Etosha is an apparently endless pan of silvery-white sand, upon which dust-devils play and mirages blur the horizon. As a game park, Etosha excels during the dry season when huge herds of animals can be seen amid some of the most startling and photogenic scenery in Africa. The roads are all navigable in a normal 2WD car, and the park was designed for visitors to drive themselves around. However, if you would prefer guided trips – or want an introductory guided tour in a safari vehicle – these can be organised both at camps and lodges within the park, and by the private lodges just outside (or consider instead one of the concession areas in Damaraland).
For most people, though, Etosha is a park to explore by yourself. Put a few drinks, a camera, extra memory cards and a pair of binoculars in your own car and go for a slow drive, stopping at the waterholes – it's amazing. There are now five lodges and camps (confusingly all now known by NWR as 'resorts') within the park, as well as an ever-increasing number of lodges outside its boundaries.