Better known to outsiders as Lake Malawi, Lago Niassa is the third-largest lake in Africa (and ninth largest in the world), running for 585km from north to south, and up to 75km wide from east to west. By any name, it is a remarkable body of water, lying at the southern end of the Rift Valley system, the immense geological scar that cuts through Africa all the way from the Red Sea to the Zambezi Valley. Up to 700m deep, it is hemmed in by the dramatic mountains of the Rift Valley escarpment, which tower more than a kilometre above its surface in places. Known for its thrillingly clear water and relatively low pollution levels, it probably harbours a greater variety of fish than any other lake in the world, including hundreds of endemic cichlid species.
The bulk of Lake Niassa lies within Malawi, but the northeastern waters are territorially part of Tanzania, while some 200km of the eastern shore falls within the Mozambican province that shares its name. The Mozambican part of the lake is poorly developed for tourism by comparison with Malawian resorts such as Nkhata Bay and Cape Maclear, but it is no less beautiful, and its westward orientation is ideal for catching the sunsets for which the region is famed.
Better known to outsiders as Lake Malawi, Lago Niassa is the third-largest lake in Africa (and ninth largest in the world), up to 700m deep, and runs for 585km from north to south and up to 75km wide from east to west.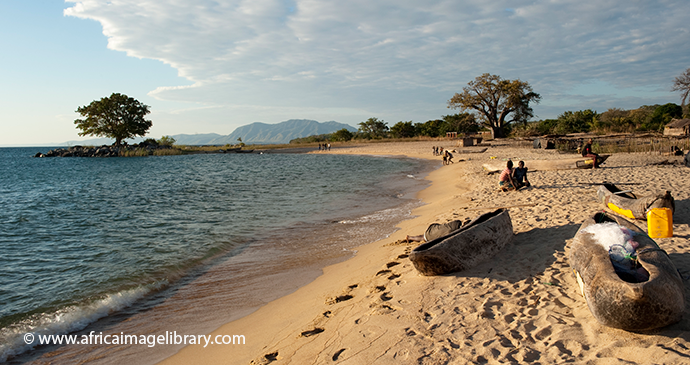 Dugout canoes on Lake Niassa's scenic beach © Ariadne Van Zandbergen
Furthermore, there is a genuine sense of adventure attached to exploring this off-the-beaten-track corner of Mozambique, though the lakeshore does now host a couple of superb eco-friendly upmarket destinations in the form of the award-winning Manda Wilderness Community Conservation Area and the newer and less well known Mbuna Bay Lodge. The Mozambican portion of the lake was officially gazetted as a reserve and designated as a Ramsar Wetland of International Importance in 2011. There are three main points of access to the Mozambican shore of Lago Niassa.
Starting in the south, Meponda lies almost directly east of Lichinga along a good 65km road, so is the easiest place to reach from the provincial capital. Metangula has better facilities than Meponda but is roughly 110km from Lichinga, albeit along a road that is now surfaced in its entirety. The more remote village of Cóbuè lies another 100km north of Metangula, along a road that can be tricky in parts, but its proximity to Malawi's popular Likoma Island makes it a good point to cross between Malawi and Mozambique.
The more adventurous traveller might be interested to know that there are walking paths between Meponda, Metangula and Cóbuè (though the sandy paths are not particularly suitable for cycling). The stretch from Meponda to Metangula, for instance, will take about three days for a good walker, who should carry enough food and water to last the whole trip. If you're looking for inspiration, the admirable English doctor Peg Cumberland has walked the entire length of the coast innumerable times since 2004, with nothing but a backpack of medicine to treat locals who have no access to proper medical facilities. Known locally as Dr Peg, she has also trained about 400 locals as volunteer health carers, and was awarded an MBE in the New Year Honours List for 2010.