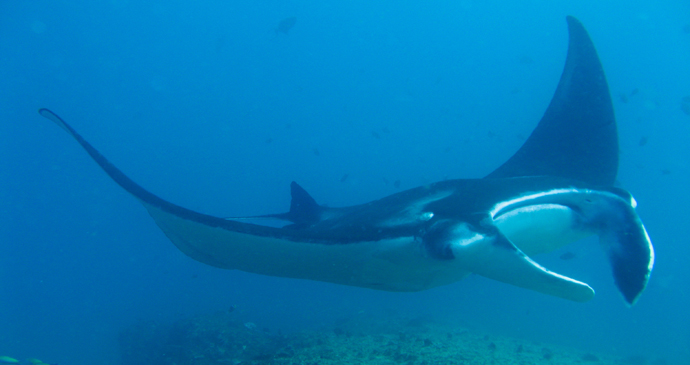 The world's largest ray, which can boast a 7.5m wingspan, manta rays can be found in the waters around Inhaca Island © Kim Briers, Shutterstock
Situated about 35km from central Maputo, Inhaca is a dislocated extension of the narrow peninsula that runs northward from Maputo Special Reserve to Cabo Santa Maria, from which it is separated by a shallow channel just 500m wide. Effectively forming the shore of Maputo Bay, Inhaca is among the most accessible of Mozambique's many offshore islands, and ideally situated for a short break from the capital. It luxuriates in an archetypal tropical island atmosphere, with a couple of good beaches, a mangrove-lined north coast and brightly coloured reefs off the west coast.
The main tourist focus is Inhaca village, a tiny settlement dominated by a centre crammed with bars. The beach directly in front of the lodges is an interesting place to sit and watch the boats as the sun goes down. Away from the village, the beaches on both the western side of the island (facing Maputo) and its eastern side (facing the Indian Ocean) are utterly deserted, and offer mile after mile of sun-kissed, wave-swept sand.
Head to Inhaca Island for humpback whale watching, surfing and sport fishing.
The reefs of Inhaca are among the most southerly in Africa and, as the water in the gulf is 5°C warmer than elsewhere at this latitude, the island has been a centre of scientific research for over 50 years. The island is host to more than 300 species of birds, and more than 150 types of coral live in the surrounding waters. If you're looking for diving the outer reefs are well worth visiting, and a large number of the region's diveable wrecks are scattered among the islands. There's good humpback whale watching between September and November, while back on terra firma, butterflies and dragonflies seem to swarm from every bush in summer.
There is also a nascent surfing scene, with the reef crest between the north end of Inhaca and Ilha Portuguesa becoming increasingly well known in the community. If you are interested in sport fishing, Inhaca has some of the finest opportunities south of Beira. Every May, the Inhaca Challenge brings fishermen from all over the region to compete against one another. Two international sailing challenges start from here – the Inhaca Race (to Richards Bay) at Easter and the Vasco da Gama Race in July. Add to the mix the marine reserves, the deserted beaches, the relaxed feel of the island and the fact that it's within 3 hours of Maputo Airport, and it's surprising that Inhaca hasn't become a much more popular destination. A park entrance fee equivalent to around US$4 is charged to all visitors to Inhaca.