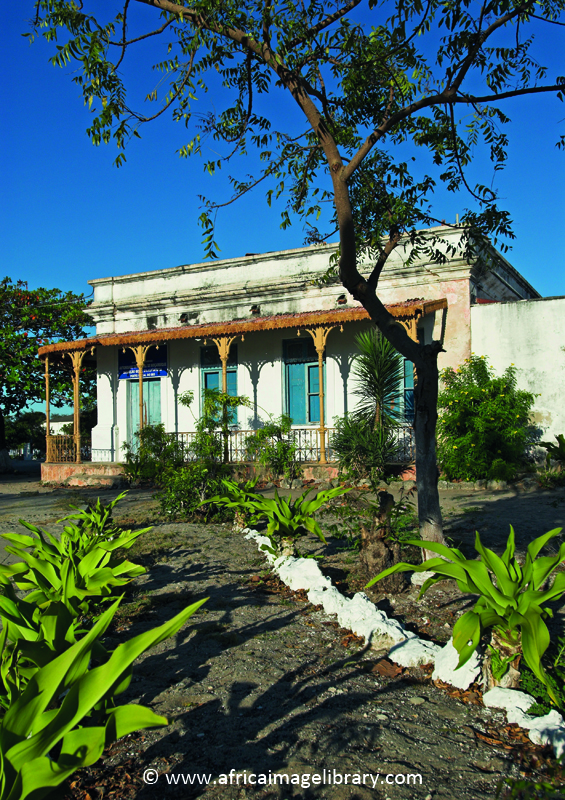 Situated on the island of the same name, the small town of Ibo ranks among Mozambique's most ancient settlements. Founded prior to the Portuguese era, it was the most important coastal port after Ilha de Moçambique up until the turn of the 20th century. By mainstream tourism standards, Ibo today is also one of southern Africa's best-kept travel secrets.
Tourist facilities are limited, though steadily improving, and access is not exactly straightforward (unless, of course, you fly from Pemba, which takes all of 20 minutes). Yet for the select few visitors who do make it, wandering around the timeworn alleys of Ibo's old town and interacting with its fewer than 4,000 inhabitants invariably forms a highlight of their time in Mozambique.
(Photo: Many of Ibo Old Town's grand 19th-century villas have been abandoned to strangler figs and the ravages of time © Ariadne Van Zandbergen, www.africaimagelibrary.com)
The old town of Ibo, though run-down, is utterly compelling: a strangely haunting backwater that vaguely recalls Kilwa Kivinje on the south coast of Tanzania. As the UNESCO World Heritage Site tentative list notes: 'The architectural character of the stone-built town, created through several hundreds of years, is remarkable for its homogeneity… the town, the fortifications and many fine buildings are an outstanding example of architecture in which local Swahili traditions, Portuguese influences and Indian and Arab influences are all intertwined.'
If there is an obvious point of comparison, it is Ilha de Moçambique, but Ibo is far from being a miniature of Ilha.
Today, many of the palaces and villas built in Ibo's 19th-century heyday have been abandoned and lapsed into disrepair, with clay tiles falling from the roofs, walls layered in moss and foundations undermined by the vast sprawling tendrils of strangler figs. The exposed rag coral walls and fading whitewash of the crumbling buildings give the town a washed-out pastel air that is strangely at odds with the deep blue tropical sky and the bright red flame trees, and the lush greenery that lines the streets in which mangrove kingfishers sing at dawn.
If there is an obvious point of comparison, it is Ilha de Moçambique, but Ibo is far from being a miniature of Ilha – which may have been the Portuguese capital for four centuries, but is more evocative of the Muslim world than of anything European.
Paradoxically Ibo, which was frequently a base for clandestine Muslim trade during the Portuguese era, has an uncluttered and overwhelmingly Mediterranean character, its wide roads lined with opulent high-roofed buildings boasting classical facades and expansive balconies supported by thick pillars. And while Ibo is also in a more advanced state of decay than Ilha de Moçambique, this is steadily changing. An idea of Ibo's past grandeur can be seen at the Ibo Island Lodge, where three previously ruined mansions have been lovingly and sensitively restored to their former glory, and several other buildings are also in various stages of rehabilitation.
Home to crumbling 19th-century palaces and villas, this is Africa's best-kept travel secret.
A number of organisations and investors have identified the importance of Ibo's history, culture and biodiversity, and community and conservation projects are already under way. A community tourism programme, a Montessori English School, a silversmiths' programme and several other community-based alternative enterprise projects are operated and managed by Ibo Island Lodge, and can be visited by the lodge's guests as well as by other visitors.