January
Bring a fan and umbrella
The wettest and hottest month in Mozambique is far from ideal for tourism, though the beach resorts tend to be very subdued (at least after South African school holidays end mid-month).
(Photo: There are numerous seasonal rivers that only flow during the rainy season between October and May © EcoPrint, Shutterstock)
February
Don't throw away the fan and umbrella
Despite the slightly lower average precipitation, February is as hot as January, with a greater chance of serious flooding as water levels rise and hurricane season peaks.
March
Heavy weather continues
Despite a significantly lower average precipitation than January and February, March is still characterised by hot and humid conditions, with a chance of serious flooding at the tail end of the rainy season.
April
Take a Tofo 'ocean safari'
A lovely month to travel, with the scenery still very green as the rains draw to an end, but tolerable temperatures and humidity. It is also a good time to catch sight of a whale-shark, the world's largest fish, on a safari out of Tofo.
May
Put on your flippers and snorkel!
May to September is the peak tourist season, generally offering ideal climatic conditions, and the best visibility conditions for snorkelling and diving. May also has the advantage of falling completely outside any South African school holidays.
(Photo: Arons blenny – May is a great time to go snorkelling as the seas are calm and clear © Cigdem Sean Cooper, Shutterstock)
June
Enjoy the tropical winter
Probably the optimum month to travel in Mozambique. Temperatures are still warm to hot, but humidity is lower and rainfall is negligible. Like the most idyllic day of the average British summer, but stretched over a month!
July
Head north
Climatically, this is a lovely time to travel in Mozambique. However, the South African winter school holidays usually fall over July, leading to an influx of families escaping the chilly highveld winter to the coast south of Beira. Fortunately, the north coast is far less affected by school holidays across the border.
August
Time of the whale
Late July or early August is when humpback whales arrive off the coast of Mozambique. From then until November, they are often seen (and heard) on ocean safaris out of Tofo.
September
Take a safari inland
This is the peak game-viewing month in the south. Vegetation should be at its lowest after several dry months, and wildlife tends to congregate at water sources.
October
Angler's delight
Although game fishing is possible all year round, October marks the start of the short marlin season, which closes in January.
November
Birding frenzy
The start of the rainy season is a highlight for birdwatchers, as resident species go into breeding plumage and are also supplemented by migrants from Europe. For the dedicated, it's worth knowing that Angola pitta, a spectacularly coloured but very seldom observed species, is conspicuous at the Niassa Reserve's Lugenda Wilderness Camp during its brief 2–3 week mating season in November.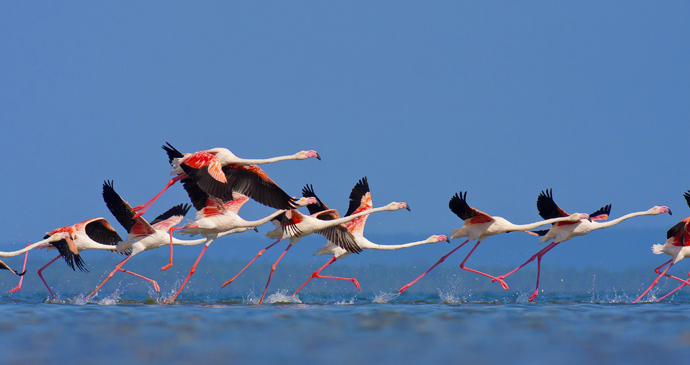 Brightly coloured flamingoes are just one of the species you'll see during the height of the birding season © Andre Klopper, Shutterstock
December
Don't say we didn't warn you…
With heat levels soaring as the summer solstice approaches, the rainy season at its peak, and South African families arriving from across the border in droves during the long summer school holidays, this is the worst time to travel in Mozambique, particularly to those southern resorts within easy driving distance of Johannesburg.