It is easy to see why Dutch, French and English colonists spent hundreds of years tripping over themselves, and each other, to settle on the previously uninhabited Mascarene Islands. The Mascarenes, as Mauritius, Rodrigues and Réunion are known, are three very different islands but there is a lot to like about each one.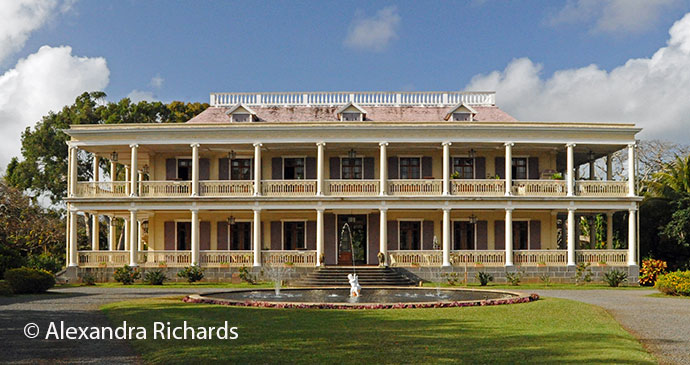 Château de Labourdonnais © Alexandra Richards
Plenty of holiday destinations offer stunning beaches, tropical warmth and fancy hotels but there are a few things that set Mauritius apart from its competitors. Firstly, and importantly during this era of increased threat to the global security environment, Mauritius is a comparatively safe destination. It is a relatively stable democracy with little serious crime and few health risks.
Secondly, the service in the hospitality industry is exceptional; even mid-range hotels boast levels of service you would be lucky to find in a five-star hotel elsewhere. An immensely rich culture is another standout feature, the result of those eager European colonists bringing a cocktail of African and Indian people to the island, as well as Chinese migration. The blend of cultures is reflected in the fabulous cuisine, and memorable meals are to be had both in the island's world-class restaurants and at roadside food stalls selling cheap samoussas and curries.
While it may be tempting to stay within the confines of your luxury resort and make the most of the facilities, the real Mauritius lies right outside its gates and is easy to explore. Flamboyant temples and grand colonial mansions stand as monuments to the island's colourful past and present. A working tea plantation, sugar factories and rum distilleries are open to the public and make for fascinating, and tasty, excursions. Some of the large rural estates (or domains) have opened to the public and offer activities for the energetic, such as horseriding, canyoning and quad biking. Mauritius was the home of the dodo before it became extinct, and while I don't like your chances of spotting one of those in the wild, there is plenty of interest for nature lovers, such as tours of Ile aux Aigrettes nature reserve and hiking in the Black River Gorges National Park.
The island of Rodrigues, although part of Mauritius, is a place of simple charm. Whenever I visit, I am struck by the tremendous sense of community, and the laid-back way of life is certainly a lesson to us all. I am told that it resembles the Mauritius of 30 years ago and a visit to the island is a welcome escape from our fast-paced world, where high-tech time-saving devices, multi-tasking and realtime connectivity seem key to survival. Rodrigues has a far more African feel than Mauritius. While the majority of Mauritius's inhabitants are of Indian descent, the residents of Rodrigues are mostly descended from African slaves. The Port Mathurin markets are the highlight of the week for Rodriguans and for the tourist offer a fascinating insight into daily life.
Rodrigues is surrounded by a pristine lagoon and coral reef, perfect for snorkelling and diving. It also has some incredible beaches, which are almost always empty, aside from the odd shepherd using the sand as a thoroughfare for moving his sheep. Off the coast lies the sand islet of Ile aux Cocos, a nature reserve and important seabird nesting site. I can honestly say it is one of the most beautiful places I have ever been – totally unspoilt and surrounded by a glorious, impossibly blue lagoon.
Tourism in Rodrigues isn't only in its infancy – it has barely left the maternity ward. Although development of the island's tourism potential has begun, with the expansion of the airport and creation of the island's fi rst mid-range hotels, tourists are still a novelty here and receive an incredibly warm welcome. My advice is to get to Rodrigues as soon as possible, before it all changes.
Réunion is a fascinating place. Officially part of France, and therefore part of the European Union, it is inhabited by a cocktail of people of African, Indian, European and Chinese origin. The Creole culture is strong here and séga (a traditional dance with African roots), sorcery and occasional cockfi ghts contrast with the ubiquitous croissants, Citroëns and boules tournaments.
I have been visiting Réunion for almost 20 years now and until 2015 almost noone I spoke to knew of its existence, unless they were French. However, in July 2015, Réunion made the news around the world when wreckage belonging to missing Malaysia Airlines fl ight MH370 washed up on the east coast. Journalists flocked to the island and, having covered the wreckage story, began to write about the other issues aff ecting Réunion at the time: the erupting volcano and a frightening number of shark attacks. But Réunion is not nearly as dangerous as it may sound, in fact it is a very liveable place. Réunion was my home for almost a year and to my mind it is a kind of user-friendly, flat-packed paradise, where life is exotic yet easy and familiar. The atmosphere is tropical, yet the roads, doctors' surgeries and hospitals are of a reassuringly European quality.
While Réunion's beaches may not rival those of Mauritius, its natural beauty is world class. The rugged, mountainous interior attracts hikers, naturalists and adventure sports enthusiasts from around the globe. Having one of the world's most active volcanoes has also proven to be a tourism asset.
Each of the Mascarenes has its own trump card, as I am sure you will discover. However, in combination they are unrivalled. If you visit just one you'll love it, but if you can take in all three you'll be smitten.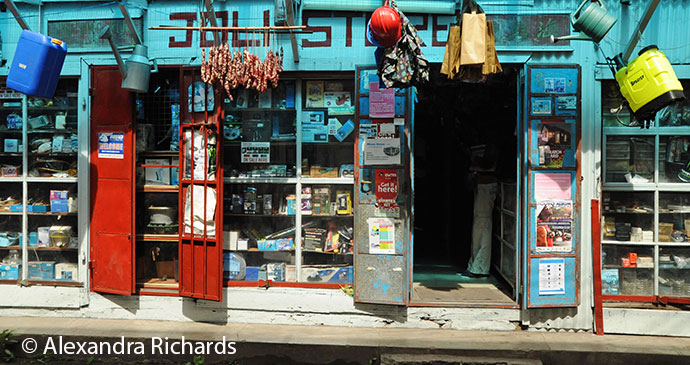 A village store in Rodrigues © Alexandra Richards
Author's story
It was one of those decisions that changes your life immeasurably but the significance of which is not apparent at the time. As a modern European languages student, I was required to spend a year of my degree overseas, practising my French, Spanish and Italian. Having grown up a short ferry ride from Normandy, mainland France didn't seem exotic or adventurous enough so when I filled in my application to teach English in France I chose the overseas departments without knowing much about them at all. I could have ended up in French Guyana, Martinique or Guadeloupe but, as luck would have it, I was assigned to Réunion Island.
I really didn't know what to expect as I got off the plane in St-Denis in September 1998. There were new and memorable experiences around every corner: colourful markets, séga dancing, energetic hikes, geckos in the shower, even tales of black magic. I found the juxtaposition of European and African cultures fascinating. Few people outside France had heard of Réunion and that remained virtually unchanged until 2015 when the island made news headlines around the world after wreckage from missing Malaysia Airlines flight MH370 was found washed up on its shores. It was while living on Réunion that I made my first trip to Mauritius. The things that struck me about the place then are the same things that have struck me about it on every visit since: the natural beauty; superb beaches; rich history; diverse cultures; and world-class hotels and service. The island's history is one of dashing colonialists, rugged pirates, slavery, sugar and spices, and the legacy of that past is visible in its buildings, landscape and population. While it may be tempting to hunker down in a luxury resort and make the most of the facilities, there is so much to be gained from venturing out and getting to know the island.
Visiting Rodrigues is almost like checking into a health retreat. Far less developed than Mauritius and with a very African feel, the island is blessed with untamed natural beauty, a stunning lagoon and wonderful, unspoilt beaches. The Mascarene Islands inspired me to start writing about my travels, so I'm forever grateful to whichever official completely changed the course of my life in deciding to send me to Réunion Island back in 1998.