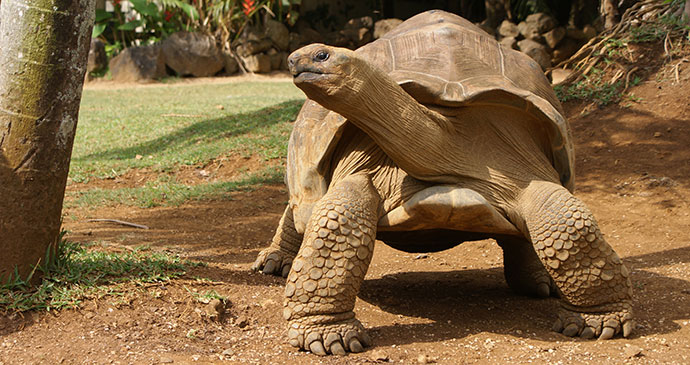 Visitors can walk amongst the giant Aldabra tortoises which roam in plenty of space © Catalinka, Shutterstock
This reserve recreates the island as it once was – dotted with tortoises.
A popular attraction for Rodrigues, established by the owners of La Vanille Réserve des Mascareignes in Mauritius. Visitors can walk among the giant Aldabra tortoises (Dipsochelys elephantina), which roam in plenty of space. There are also Radiata tortoises from Madagascar (Dipsochelys radiata). In September 2011, 1,015 baby tortoises had been born at the reserve since January 2008, making a total of around 1,500 tortoises at the reserve. Visitors can sponsor a baby tortoise and receive regular updates on its progress. The reserve is planting native and endemic plants in the area, with the help of the Mauritian Wildlife Foundation. Guided tours through the cave are informative (although can be rather too long); there is a boardwalk, handrail and lighting, but you'll have to negotiate some very narrow gaps during the walk and climb some steep steps. The reserve plans to open another cave more suited to those with limited mobility. There is an excellent museum here, which tells the story of Rodrigues, as well as that of the various extinct species of the Mascarenes. There is a small souvenir shop and a café. You will need to allow around 2½ hours for the reserve and cave visit.