The uninhabited sand island of Île aux Cerfs, off Trou d'Eau Douce, is one of the best-known tourist attractions of the east, with its miles of beaches, copious watersports facilities and championship golf course belonging to Shangri-La Le Touessrok Resort.
It is marketed as a 'paradise island' and is a popular excursion, but many travellers find it too touristy and overpriced. The island has a total area of 300ha, much of which has been transformed into the superb Île aux Cerfs Golf Course. Local operators selling trips to Île aux Cerfs line the road through the village, clamouring for the attention of tourists. This can be rather off-putting, but almost all hotels can organise the excursion.
If you walk far enough around from the boat landing area, you should be able to find a quiet spot on the beach. Once you've settled down, it probably won't be long before a passing gentleman offers you a pineapple or coconut. It's almost worth the Rs100 just to watch him expertly hack the pineapple into the classic ice-cream-cone shape.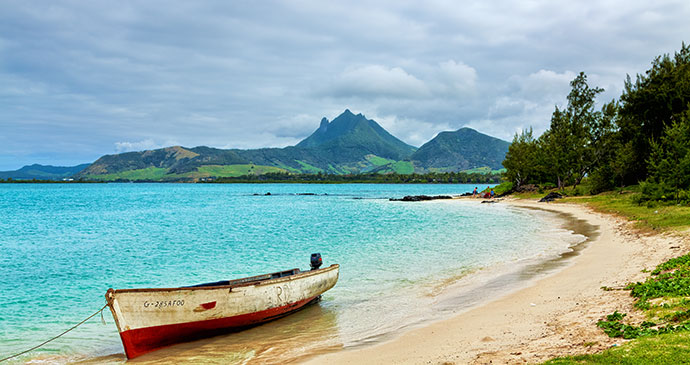 The uninhabited Ile aux Cerfs has miles upon miles of gorgeous beaches © hessbeck, Shutterstock
For a slighty different kind of activity, check out TerrOcean. Operating near Domaine de l'Etoile, this company runs obstacle courses on the island, one for adults (think rope bridges, Tarzan swings, and the like) and one for children (4–11 years).
For those whose accommodation doesn't provide trips to Île aux Cerfs, there are other ways of getting there. Almost every second person you pass in Trou d'Eau Douce will offer to take you there but be wary as their service may not be reliable, particularly when it comes to bringing you back again.
Operators with reasonable reputations include Vicky Tours and Falcon Boats, both of which have sales representatives in Trou d'Eau Douce. Expect to pay around Rs300 per person return by ordinary boat, which takes around 15 minutes, or around Rs450 by speedboat, which only takes around 5 minutes. Boats leave at regular intervals, usually every 30 minutes between 09.00 and 16.30, but you should confirm with your particular operator the time of the last trip back to the mainland. The departure point is clearly marked in Trou d'Eau Douce and you can buy tickets on the spot.
A number of operators, including Falcon Boats and Vicky Tours, offer full-day group excursions to Île aux Cerfs, which usually include a barbecue and a visit by boat to the small waterfall at Grande Rivière Sud-est. Such excursions cost around Rs1,000 per person. A visit to the waterfall and Île aux Cerfs without lunch costs around Rs700.