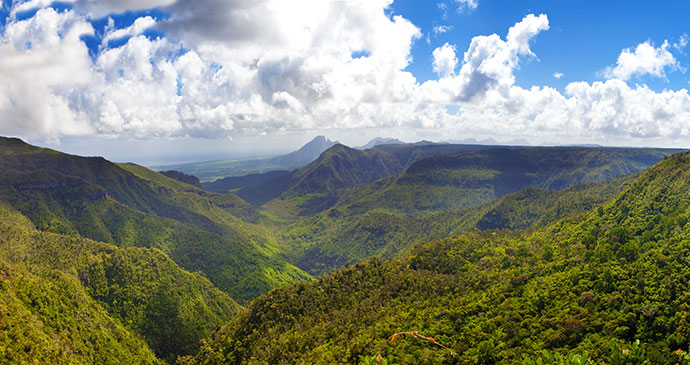 Black River Gorges NP contains the best of the island's few remaining forests © Kkulikov, Shutterstock
The importance of the Black River Gorges National Park is that it protects a phenomenal concentration of gravely endangered animals and plants. Visitors will not struggle to find its rare denizens, many of which have narrowly escaped extinction. If there is one place in Mauritius which nature enthusiasts must visit, this is it. Set in the southwest, the national park covers 6,754ha and includes the Macchabée, Pétrin, Plaine Champagne, Bel Ombre and Montagne Cocotte forests. But don't expect pristine forest: the remaining forest is severely degraded, having been thoroughly invaded by fast-growing exotic plants.
Home to the best of the island's remaining forests, this national park also protects a number of seriously endangered species.
At Pétrin and Plaine Champagne, you'll find heath-type vegetation flourishing on porous soil (keep a lookout for the lovely Trochettia blackburniana). Pandanus thrives where terrain is marshier. A very distinctive tree is the weird, umbrella-like bois de natte, often festooned with epiphytes.
At Bel Ombre, you can study the transition between lowland and upland evergreen rainforest, whilst at Montagne Cocotte, there's a good example of high-altitude rainforest, in which shorter trees are draped in mosses and lichens.