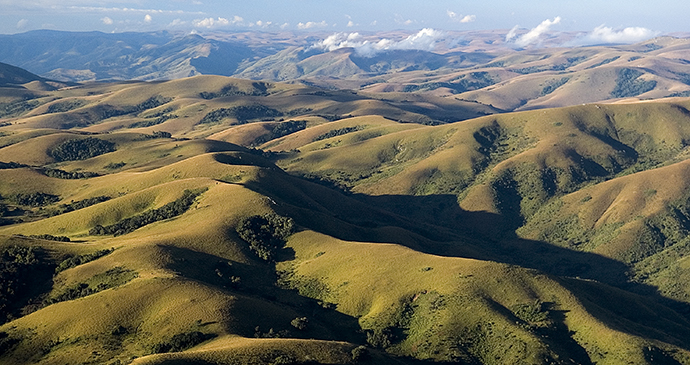 Nyika's main attraction is the wonderful montane scenery, a landscape unlike any other in Malawi © Dana Allen, Central African Wilderness Safaris
Nyika affords visitors the freedom to explore a vast network of dirt roads and footpaths through an area rich in wildlife great and small.
At the heart of the Nyika National Park, averaging over 2,000m in altitude, lies the gently undulating Nyika Plateau, where montane grassland and fern heather communities, notable for their prolific wild flowers during the rainy season, are interspersed with isolated stands of indigenous forest and exotic pine and eucalyptus plantations. Although the Nyika Plateau is very much the centrepiece of the park and the only part that is readily accessible to tourists, the Brachystegia-covered lower slopes of the Nyika range also lie within its boundaries. The plateau is one of the coldest parts of Malawi, moderate in summer but subject to fierce winds and with sub-zero temperatures often recorded on winter nights. October is an ideal time to visit: it's less cold and the rains haven't yet arrived, and wild flowers spring up all over.