This cluster of towering Grandidier's baobabs is one of Madagascar's most famous views.
The baobab – a freak among trees with its massively swollen trunk and sparse stubby branches – is emblematic of Madagascar. This is the motherland of baobabs. Of the nine species found worldwide, six grow exclusively in Madagascar. It is difficult to be certain because unlike other trees baobabs do not produce growth rings, but recent radiocarbon dating suggests that the very oldest may be 900 years old, with most significantly younger.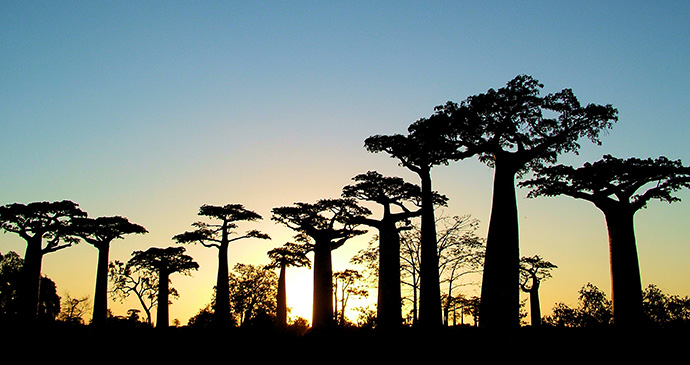 In 2007 the avenue (together with about 300 baobabs of three species in the surrounding 1km) became an officially protected natural monument. There is now a car park, fee to pay to visit, souvenir shop, information office and tree nursery, with an active programme to plant saplings among the existing trees. The project suffered a setback late in 2012 when a fire engulfed 11ha of the 320ha reserve, destroying 99 of the 220 newly planted trees, but no mature baobabs were affected.
To get to the avenue turn left off RN35 about 13km from Morondava, and the baobabs are 5.5km further on. It takes about 40 minutes by car/taxi, or you can come by bike or quad. The best light for photography is just before sunset (it brings out the red hue in the bark), but sunrise is almost as good and you're much more likely to have the place to yourself.