More than just a luxury seaside hotel, Anjajavy is about as good as you can get in Madagascar.
Located 128km up the coast from Mahajanga, this is not just a luxury seaside hotel: in addition to its 24 villas it protects 450ha of dry deciduous forest. In some places this grows right on the tsingy limestone. 
Wildlife viewing here is effortless, including Coquerel's sifakas and other lemurs. There are flocks of bright green grey-headed lovebirds, sickle-billed vangas, crested ibises, crested couas, Madagascar fish eagles and vasa parrots. You may also see beautiful butterflies, plentiful chameleons, hognose snakes and ground boas.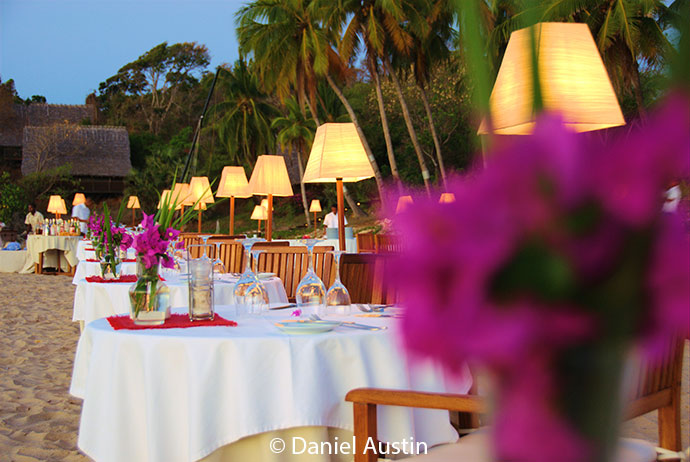 There's a couple of caves too, spectacular enough with stalactites and stalagmites (and bats), and one with the skulls of an extinct lemur species embedded in the rocks. Perhaps most startlingly for botanists, Anjajavy and the nearby Moramba Bay hold an undescribed species of cycad tree.
Then there are the coral reefs, tsingy, pristine beaches, extensive mangroves, lovely swimming pool and 'oasis' garden, not to mention total comfort, brilliant service and superb food. And even Wi-Fi for those unable to sever their electronic umbilical cord to the outside world.
A range of activities is on offer, including guided forest walks, sailing, windsurfing, snorkelling, mountain biking and village visits. For an additional fee you can also indulge in deep-sea fishing, waterskiing and massages. Three nights is the minimum stay; five allows you to appreciate all Anjajavy has to offer. To fit as much into a day as possible, the hotel operates in its own time zone bubble – an hour ahead of the rest of Madagascar!