Mole National Park has the longest bird checklist for any site in Ghana, with a total of at least 316 species now recorded.
Ghana's largest wildlife sanctuary, Mole (pronounced Mo-lay) National Park is one of the best places anywhere in West Africa for general game viewing. Serviced by the rather rundown but relatively affordable Mole Motel and, since 2015, the fabulous Zaina Lodge, it is also comparatively easy and affordable to visit, whether on public transport or in a private vehicle, and well worth the effort for the opportunity to see a varied range of savannah wildlife at close quarters, most prolifically in the dry season (Oct–Mar). Both Zaina Lodge and the motel have memorable settings on a cliff overlooking several waterholes regularly visited by elephant, especially in the dry season, and the adjacent park headquarters offers a range of activities including guided walks, game drives in open 4x4s and specialist birding excursions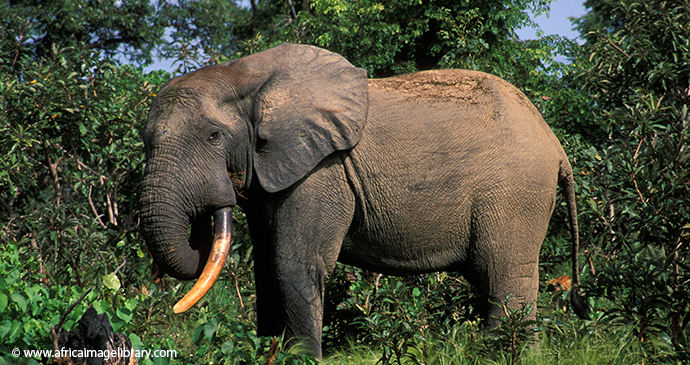 Mole National Park is home to between 400 and 600 African elephants © Ariadne Van Zandbergen
Although Mole is undoubtedly Ghana's premier wildlife destination, its immense potential as the linchpin of the northern tourist circuit remains largely unrealised, a bizarre oversight that not only is detrimental to travellers and to regional tourism development, but also works to the probable advantage of subsistence poachers. This has improved, with the surfacing of the road to the park, long-overdue introduction of organised game drives, and the opening of Zaina Lodge, which offers a luxurious tented camp experience that's entirely unique to Ghana and would be right at home in the parks of eastern or southern Africa. Nevertheless, as things stand, the gameviewing circuit is limited to a 40km network of poorly maintained roads to the south of the Lovi River, leaving about 95% of the park inaccessible to visitors, and the infrastructure falls below the standard normally associated with national parks in southern and eastern Africa.
Set aside as a game reserve in 1958, a year after Ghana attained independence, Mole protects a vast tract of undulating and relatively dry savannah woodland that had always been thinly populated due to an abundance of tsetse flies and lack of perennial water. It was gazetted as a national park in 1971, following the controversial resettlement of the relatively few villagers who lived within its boundaries, and was extended to its present size of 4,840km² in 1991. The park lies at an average altitude of about 150m, but is bisected by the 250m-high Konkori Escarpment, on which the Mole Motel and Zaina Lodge are situated. The two main watercourses are the seasonal Lovi and Mole rivers, tributaries of the White Volta River that seldom flow in the dry season, but feed a scattering of more permanent waterholes.
More than 90 mammal species have been recorded in Mole, though several of the more charismatic larger mammals are locally extinct, or in critical danger of that fate. The last African wild-dog sighting, for instance, was back in 1978, and while anecdotal evidence suggests that lions might still be present in small numbers, a survey undertaken over four months in 2008/09 for the African Journal of Ecology obtained 'no unequivocal evidence' of their continued presence. More pleasingly, the same survey concluded that the spotted hyena remains reasonably common, and it also captured several images of leopards on nocturnal photographic traps.
Other mammal populations seem reasonably stable despite the presence of more than 30 villages close to the park boundaries and associated problems with subsistence hunting. The elephant population probably stands at between 400 and 600 individuals, and is mostly concentrated in the southern half of the park. There used to be a significant seasonal fluctuation in this population, as many herds followed a pair of well-established migration routes into southern Burkina Faso, but it is unclear to what extent elephants still use these corridors, which have become increasingly heavily settled by humans. The park also supports more than 1,000 buffalo, and significant populations of hippo, warthog and antelope species such as Defassa waterbuck, kob, roan, hartebeest, bushbuck, and various duikers. Five primate species are present, most visibly olive baboon, but also patas and green monkey. A dozen or so small carnivores are also present, but the only ones likely to be seen are various types of mongoose.
Mole National Park has the longest checklist for any site in Ghana, with a total of at least 316 species now recorded. It is the main Ghanaian stronghold for several raptors and other large birds that have become scarce in more settled areas, for instance white-backed vulture, bateleur, martial eagle, Beaudouin's snake eagle, and marabou and saddle-billed stork. It is also an important site for species associated with the Guinean savannah biome, such as Senegal parrot, northern carmine bee-eater, blue-bellied roller, northern red-billed hornbill and bearded barbet.