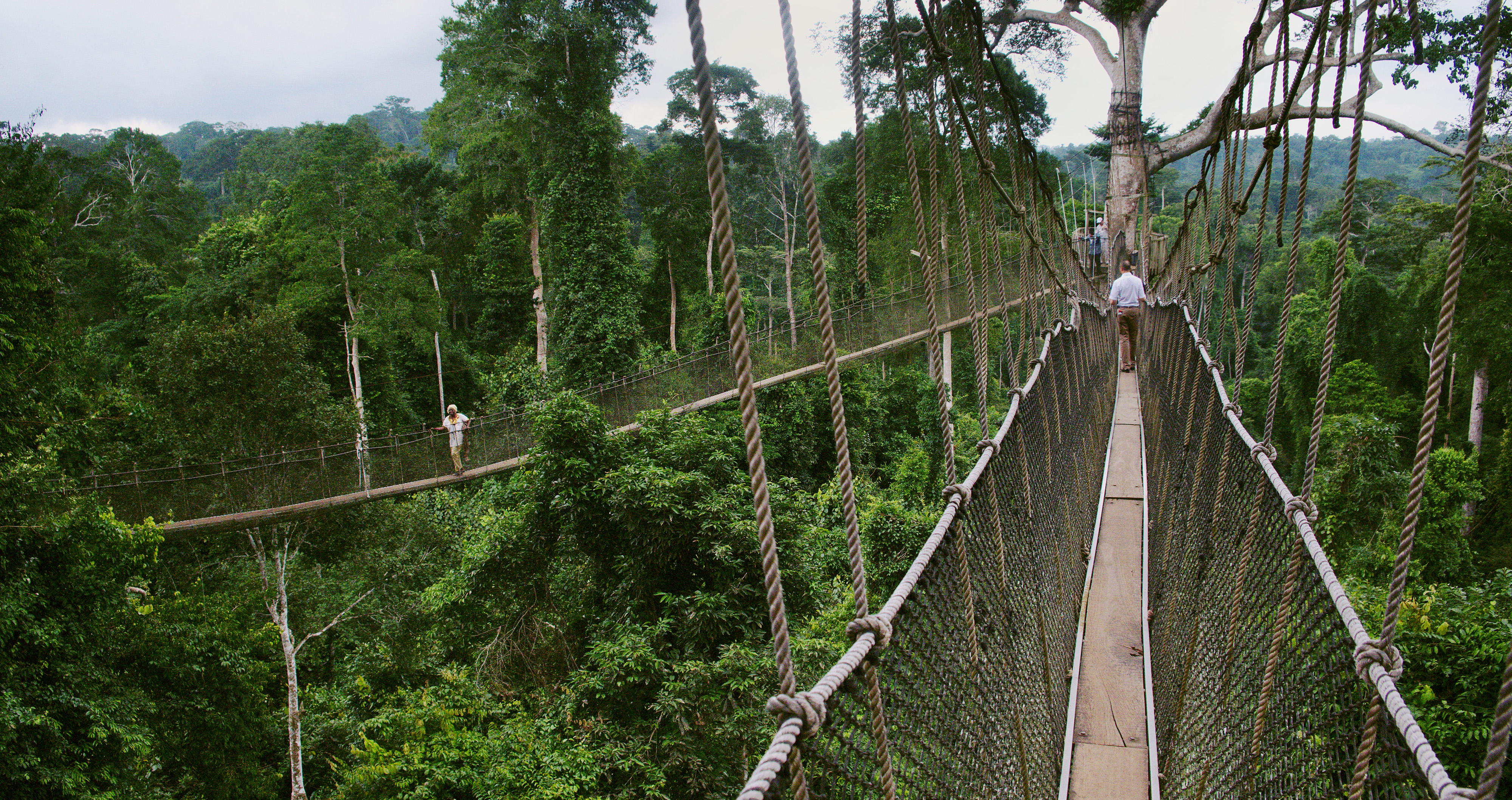 The canopy walkway in Kakum National Park © Nancy Chuang @nancyc_huang
One of the most popular and accessible wildlife destinations in Ghana, the national park is less than an hour's drive north of Cape Coast.
Extending over an area of 375km² inland of Cape Coast, Kakum National Park protects the core of Ghana's largest remaining tract of rainforest, parts of which also lie within the contiguous Assin Attandanso Game Production Area and Pra Suhien Forest Reserve. In addition to harbouring an immense diversity of plants and animals, Kakum is an important watershed, named after one of several rivers that rise within its boundaries and collectively provide water to 130 towns and villages, including Cape Coast. One of the most popular and accessible wildlife destinations in Ghana, the national park is less than an hour's drive north of Cape Coast, whether you travel in a private vehicle or trotro. The main attraction for most visitors is a much-publicised canopy walkway that rises up to 40m above the forest floor, but birding walks and a limited range of other activities are also offered, albeit sometimes rather reluctantly.
Originally set aside as a forest reserve in 1931, Kakum was gazetted as a national park in 1992, partly at the initiative of local communities. The predominant vegetation type is moist semi-deciduous close-canopy rainforest, which is characterised by high rainfall figures (peaking between May and December) and an average humidity level of 90%. Parts of the park are ecologically compromised as a result of the extensive logging that took place in the 1970s and 1980s, but most of the forest remains in pristine condition, and logging has been outlawed within its boundaries since the national park was proclaimed.
The diversity of Kakum's flora is such that the number of plant species comfortably exceeds 200 per hectare in some areas. This vegetation is divided into five broad vertical layers. The sparsely vegetated floor of the forest interior is dominated by herbaceous plants, above which a layer of shrubs reaches up to about 4m. The upper three layers together form the canopy: the lowest consists of spreading trees reaching a height of around 18m, above which lies the main closed canopy of larger trees, typically around 40m high, and then finally there are the emergent trees, many of them very old, reaching a height of up to 65–70m.
The contiguous 600km² forest block centred on Kakum is home to around 650 species of butterfly, more than the whole of Europe, and it is the type locality of the genus Kakumia and two species, Diopetes kakumi and Hypolycaena kakumi. It also harbours around 100 different mammal species, including the country's densest population of forest elephant, estimated at around 250 individuals, as well as giant forest hog, six types of duiker, bushbuck, bongo, various flying squirrels, leopard, spot-nosed monkey, Diana monkey, mona monkey, and black-and-white and olive colobus. None of these mammals is likely to be seen by day visitors, but it is possible to arrange overnight camping trips to Antikwaa Camp, where elephants are encountered with some frequency.