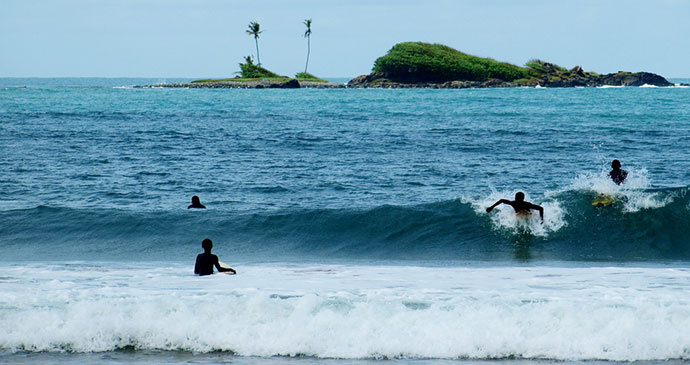 Busua Beach – one of Ghana's surfing hotspots © Michal Vogt, Wikimedia Commons
With a wide sandy beach, this is the ultimate Ghanaian chill-out venue.
Strung along a wide sandy beach for about 1km, Busua has long rivalled Kokrobite as the ultimate Ghanaian beach chill-out venue, though its relative distance from Accra and less densely clustered facilities mean that it generally comes across as quieter and less overtly touristy than its eastern counterpart. Flanked on the west by the Busua Lagoon, the beach is generally regarded to offer some of the safest swimming in the country, though (as with anywhere along the Ghanaian coastline) tides and currents can be unpredictable, so take local advice before you swim, and don't venture out deeper than the locals do. Having attracted a steady influx of budget travellers to its beach since the 1960s, Busua has also emerged as a focal point of Ghana's evergrowing surfing scene. While facilities are generally geared towards low-spending volunteers and backpackers, Busua does also cater to a more upmarket crowd, with the Busua Beach Resort in particular being a popular weekend retreat for expats associated with the mining industries in Tarkwa and Takoradi.
Since 2011, Busua has also been home to the Asa Baako Festival, which runs for three days every March and takes over the village with a series of concerts, parties, art exhibitions, sporting events, trekking, tree planting and more.
Busua is the traditional seat of the Ahantamanhene, paramount chief of the historically important Ahanta Kingdom, which made its first recorded appearance on a map drawn by an anonymous Dutch sailor in 1629, and extends over most of the coastal belt between Shama and Essiama. Oral tradition has it that Ahanta was founded by a leader called Badu Bonsu (also spelt Baidoo Bonsoe), who emerged from the mouth of a whale, together with his younger brother and sister, and hundreds of other followers, at a landing site somewhere between the mouth of the Ankobra River and the present-day border with Ivory Coast. As soon as he set foot on land, Badu Bonsu took up his battle sword and declared himself ruler over all he surveyed. He then led his followers east along the coast and inland along the Ankobra River, to settle at a well-watered site remembered by the name Bresu, the first capital of Ahanta. A few generations later, an unspecified epidemic at Bresu caused the survivors to evacuate to the coast and establish a new capital at what is now Busua.