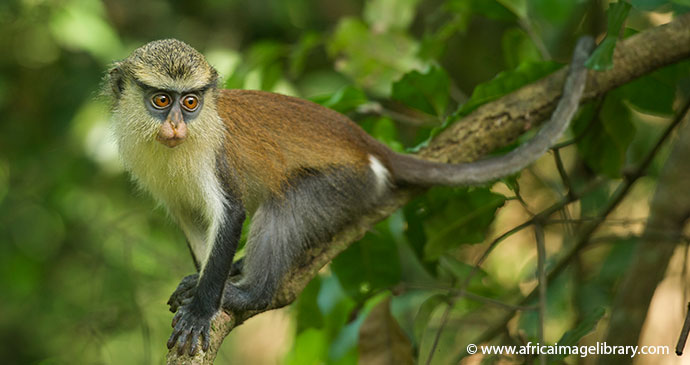 The mona monkey is a common sight at this cute sanctuary © Ariadne Van Zandbergen
This delightful little sanctuary is home to both the Lowe's mona and black-and-white colobus monkeys.
This small but rather wonderful 2km² sanctuary was created in 1974 to protect the monkey population supported within a small patch of semi-deciduous forest centred on the villages of Boabeng and Fiema, which lie 1km apart in Nkoranza District. Two monkey species occur in significant numbers: Lowe's mona and black-and-white colobus. The mona population is thought to stand at around 400 individuals, living in troops of 15–50 animals, several of which now have a territory in the forest fringe and adjacent woodland. The black-and-white colobus, with a population of 200 animals divided into 13 troops, are rarely seen outside the true forest. Recent reports of green, patas, spot-nosed and Diana monkeys remain unsubstantiated, but the forest does support a good variety of birds and butterflies.
Guided walks can be arranged at the visitor centre located beside the resthouse at the forest entrance. The village is the best place to see monkeys at close range. The unruly monas that scavenge here are particularly tame and spend a great deal of time on the ground; it is highly rewarding to be able to watch these normally shy forest monkeys interact at such close quarters. The colobus monkeys are more timid and tend to stick to the trees, but you should easily get a clear view of them, and it's wonderful to see them leap between the trees with their feathery white tails in tow. A longer guided walk along some of the 10km of footpaths that emanate from the village provides an opportunity to see some of the many birds and butterflies, as well as a giant mahogany tree thought to be more than 150 years old. Small plastic bottles of the excellent local honey are on sale at the entrance, where there is also a good crafts shop.