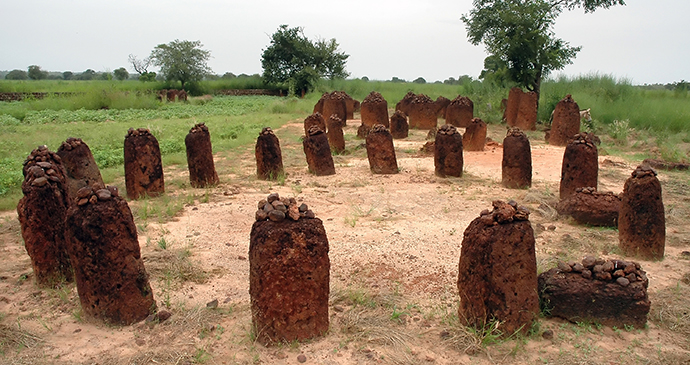 The purpose behind the construction of the enigmatic Wassu stone circles is still a mystery © trevor kittelty, Shutterstock
Part of the UNESCO Stone Circle World Heritage Site, Wassu is home to the country's greatest concentration of medieval megaliths.
The best-known and most frequently visited of the four sites that comprise the Stone Circles of Senegambia UNESCO World Heritage Site is Wassu National Monument, which boasts the greatest concentration of megaliths anywhere in the country. Altogether, around 200 megaliths, the tallest being about 3m high, are arranged into 11 circles here. In addition, some 200m east of the main site, the quarry where the stones were carved contains several megaliths that broke in transit or before they had been completed. It contains a well laid-out (albeit rather musty and bat-infested) site museum where an array of models, photographs, paintings and other interpretative material help to bring the history of the stone circles to life. The fenced-off site lies about 500m east of the main North Bank Road, perhaps 10 minutes' walk and clearly signposted from the junction village of Wassu.