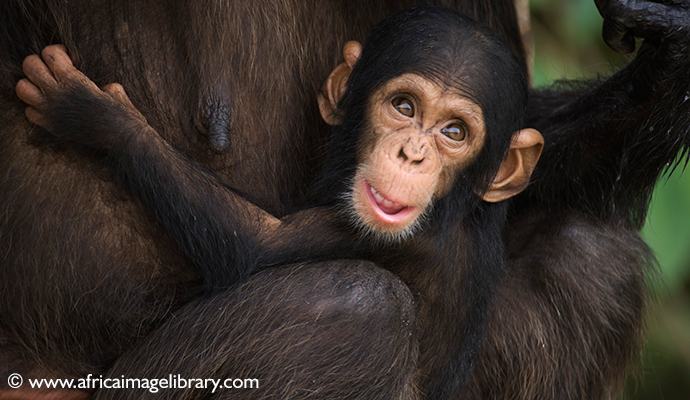 Chimpanzees have been introduced to three of the park's islands by the Chimpanzee Rehabilitation Project © Ariadne Van Zandbergen, Africa Image Library
The forested islands of this small national park are home to a Chimpanzee Rehabilitation Project along with many monkeys and birds.
The winding stretch of the River Gambia between Kuntaur and MacCarthy Island has a compelling tropical character, lined as it is with a lush belt of jungle-like riparian forest that evokes the steamy Congo Basin rather than the Sahel. Its centrepiece is the 6km² River Gambia National Park (RGNP), which was gazetted in 1978 to protect Baboon Island and four smaller islets, as well as an adjacent stretch of riverbank, a few kilometres upriver of Kuntaur.
The most publicised attraction of RGNP is the chimpanzees that have been introduced to three of its islands by the Chimpanzee Rehabilitation Project, which also operates an excellent tented camp opposite Baboon Island on the South Bank's Nyassang Forest Park, a state-owned classified forest jointly managed in collaboration with several local communities. Revenue raised by tourist visits to the CRP goes primarily towards the care and welfare of the chimpanzees, though a percentage is used to help fund government conservation programmes and community development projects.
In addition to chimpanzees, RGNP supports healthy populations of several naturally occurring primates, most conspicuously green monkey, red colobus and Guinea baboon, along with a few-dozen hippos, plenty of crocodiles and monitor lizards, warthogs and manatees, and several small antelope and nocturnal carnivore species. The birdlife is fantastic too: the handsome palmnut vulture, African fish eagle and osprey all nest along the river, the secretive African finfoot inhabits shaded stretches of riverbank, and it's one of the best places in the country to see forest-associated hornbills, barbets, shrikes, turacos and parrots.
Tourists are forbidden from setting foot on the islands protected within RGNP. This is partly due to the potential danger posed by chimps, who can be quite aggressive toward human intruders. It is also to protect the health of the chimps, which are highly susceptible to human-borne diseases. However, the islands and their inhabitants can be viewed from a boat, ideally with the CRP, which has exclusive access to the channel between Baboon Island and its tented camp. (It can also be arranged through private boat owners in Kuntaur, but this restricts your access to the public channel.) Either way, it is mandatory to be accompanied by a CRP guide on any boat trip running through the park, and an entrance fee of D180 per person is levied.