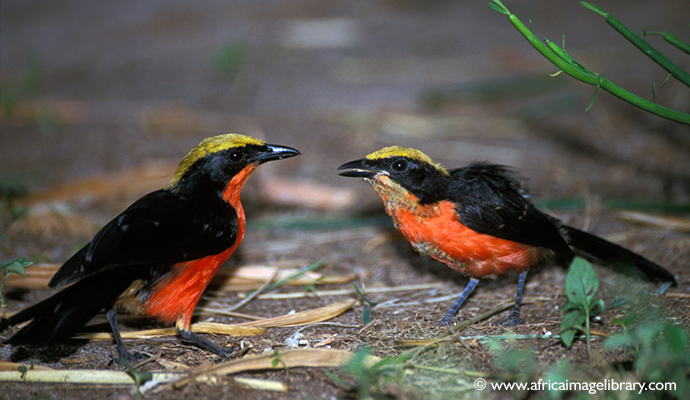 Yellow-crowned gonolek can be spotted in the park © Ariadne Van Zandbergen, Africa Image Library

Dominated by Jinack Island, this coastal park on the North Bank boasts the country's best swimming beaches.
Effectively a southern extension of Senegal's vast Parc National de Delta du Saloum, the 50km² Niumi National Park is one of the finest and most accessible of The Gambia's protected areas, less than an hour's journey from Banjul, but also one of the most underpublicised. Established in 1986, the park incorporates most of the Gambian coastline north of Barra Point. The dominant feature of the park, its northern tip nudging into Senegal, is narrow, isolated Jinack Island, which is separated from the mainland by the Niji Bolong in the north and shallow mangrove beds (crossable on foot in places when the tide is low) in the south. Jinack is also sometimes known as Paradise or Coconut Island, in reference to the 10km arc of unspoilt sandy beaches along a western coastline whose gradual decline makes for unusually calm swimming conditions. Opposite Jinack, the mainland part of Niumi comprises a large chunk of bush and woodland savannah stretching north
from the village of Kanuma, as well as the magnificent Masarinko Bolong and the escarpment above it.
Jinack Island protects a fair amount of wildlife, and it can be very rewarding for birdwatchers. The main attraction for most visitors, however, is the beach, which is serviced by a handful of small camps but otherwise feels quite gloriously underdeveloped by comparison with most of its counterparts south of the River Gambia. Here, you needn't fear being disturbed by the music of ghetto blasters, the thunder of traffic, or the inanities of bumsters. A few other things missing here include pollution, discos and supermarkets. In fact the entire island, populated as it is by a scattering of fishermen, farmers and their families, offers a rewarding, tranquil and unaffected glimpse into rural Gambian life, one particularly suited to keen walkers, whose enjoyment will be enhanced by the absence of motor vehicles on Jinack, and the friendly, welcoming vibe exuded by the villagers.