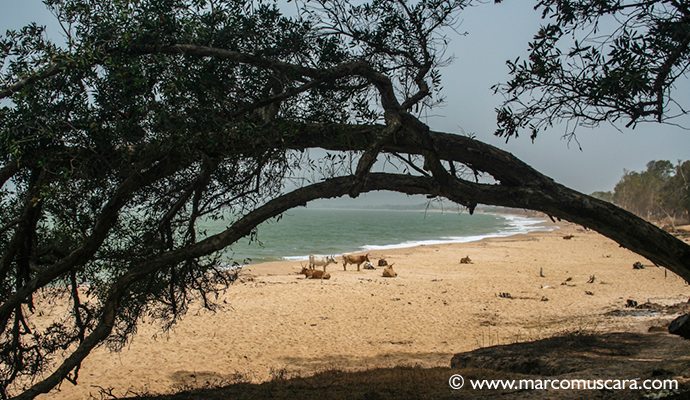 Kartong is home to the most remote beach on the south coast © Marco Muscarà
The most remote (and arguably attractive) beach on the south coast is also home to the excellent Gambian Reptiles Farm and legendary Kartong Bird Observatory.
Reputedly founded more than 450 years ago, the agreeable border village of Kartong (also spelt Kartung) is one of the oldest in the country, and known throughout the Senegambia region as the site of a sacred pool called Kartong Folonko. The small town's 5,500 inhabitants are known as Kartonkas, and include a small but distinct community of Balanta immigrants from Guinea-Bissau. The compact town centre lies about 1km inland of the Atlantic coastline and 2km north of the Allahein (or Halahin) River, which flows along the border with Senegal. Kartong is one of the country's most rewarding ornithological destinations, with a checklist of more than 350 species including several recorded nowhere else in the country, and the area's reputation in birdwatching circles has grown hugely since the opening of the Kartong Bird Observatory on the western outskirts of town in 2010. Other attractions include the Kartong Folonko, boat trips on the mangrove-lined Allahein River, Lemonfish Art Gallery and the out-of-town Gambian Reptiles Farm, while the lovely stretch of coast north of town is lined with beach camps and eco-lodges. Tourism here is unusually well organised thanks to the efforts of the Kartong Association for Responsible Tourism (KART), the body responsible for the annual Kartong Festival, which has been running since 2006.