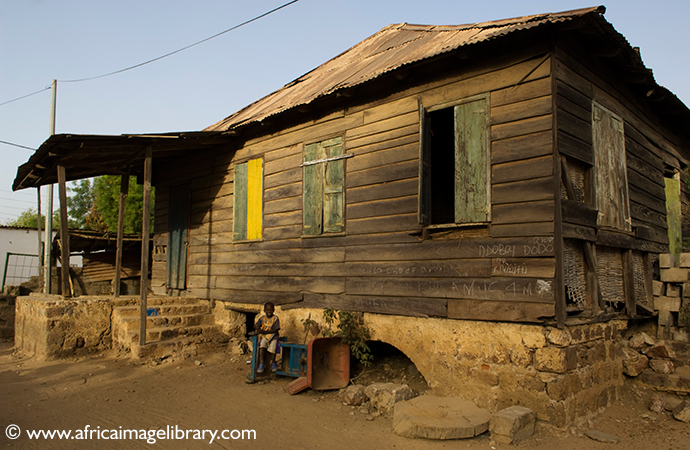 The town's last Creole-style wooden house was built in 1832 © Ariadne van Zandbergen, Africa Image Library
Formerly known as Georgetown, this sleepy island-bound town combines good facilities and easy road access with some historic sightseeing and great birding.
Founded by the British in 1823, the port of Janjanbureh (also spelt Janjangbureh), administrative capital of CRD, stands on the North Bank of the 20km² MacCarthy Island about 200km inland of Banjul. Officially known as Georgetown until 1995, it is still often referred to by that name, or as Makati (a bastardisation of MacCarthy). A busy and thriving commercial centre throughout the colonial era, it is now quite a sleepy laid-back place with a population of no more than 4,000.
A few old buildings are dotted around Janjanbureh. Best known among these is the pair of dilapidated waterfront warehouses touted as having slave-trade associations according to the local oral history. The roofless and rather fort-like CFAO Warehouse, immediately east of what is now the ferry slipway, is often referred to as the Slave Market, though in fact it was constructed in the late 19th century and only ever served as a storage place for legitimate goods. However, it is possible that the same site was used as a camp and assembly point by slave traders in the 16th and 17th centuries. On the opposite side of the ferry slipway, the so-called Slave Dungeon – a dank subterranean storeroom adorned with recently added chains and lit by flickering candles to enhance its sinister mood – is also part of a warehouse, built in the late 19th century by the mercantile Maurel & Prom Company. Several less controversial 19th-century architectural landmarks can be seen along Owen Street. A few doors up from the police station, the town's last intact Creole-style wooden house was originally built by the Jones family, one of the 200 liberated slaves brought to MacCarthy Island in 1832. The plain rectangular Methodist Church, which lies a block further east, is claimed to be the denomination's oldest church in sub-Saharan Africa, having been inaugurated by the Reverend William Fox in 1835 at a site chosen as a Wesleyan Mission 11 years earlier. The Kankurang Centre is a museum set in a large roundhouse on the outskirts of town showcasing the mask traditions of the various tribes of The Gambia.