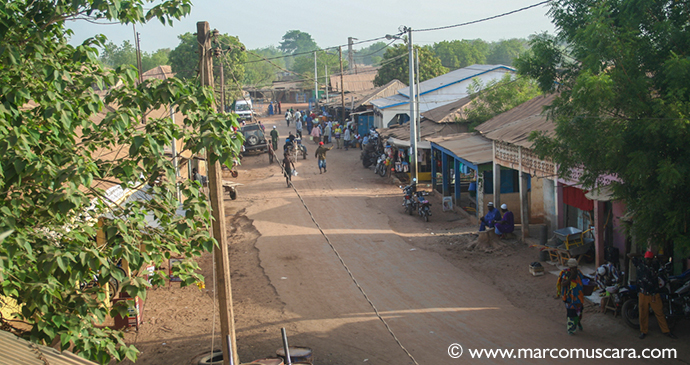 The main street in Basse Santa Su © Marco Muscarà
The country's most easterly town also boasts a uniquely West African feel, affiliating it more to Senegal or Guinea than the coast.
Basse Santa Su, more normally abbreviated to Basse, is set on the South Bank of the River Gambia about 370km inland of Banjul. The administrative capital of Upper River Division, it is also the largest Gambian town east of Farafenni, having witnessed a huge population surge in recent decades, from around 5,000 inhabitants in 1983 to 20,000 today. Basse once must have been a river port of some significance, at least judging by the decaying Victorian buildings that dot its small timeworn waterfront. And it still serves as a transport depot for the local peanut and cotton trade, but these days it is, above all, a market town – indeed, the sprawl of narrow streets that comprises the town centre comes across as one vast chaotic bazaar, spilling over with shops and stalls laden with all manner of imported goods and local wares.
Basse has a strikingly different character from any other Gambian town, thanks to its isolation from the coast and strong cross-border trade links, not only with Senegal, which encloses it on three sides, but also to a lesser extent with Guinea, Mali and Mauritania. From a visitor's perspective, it feels far less Westernised than any other comparably sized Gambian town – traditional smocks and straw hats are still very much de rigueur here – yet it also has a rather cosmopolitan atmosphere, albeit one that mainly reflects its diversity of West African influences. True, Basse lacks for overt tourist attractions, but for those whose travels in the region are otherwise confined to coastal Gambia, a visit to this busy, noisy, thriving and emphatically African town will be a genuine eye-opener.