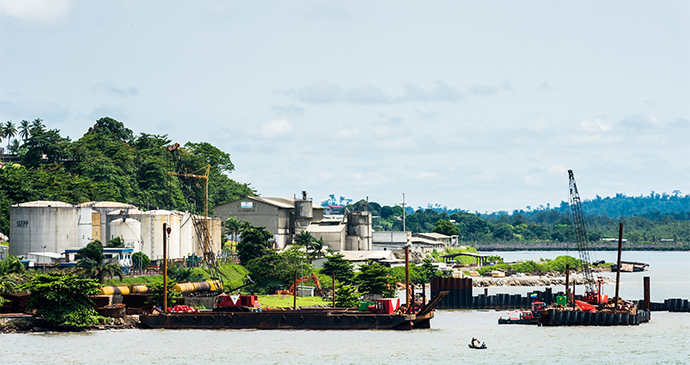 One of West Africa's major ports, Libreville is a laid-back capital city © Anton Ivanov, Shutterstock
Soak up the atmosphere along the palm-fringed seafront of Gabon's capital.
Gabon's capital lies in the far northwest of the country, splayed haphazardly along the shores of the Atlantic Ocean for close to 30km. Libreville – or Elbévé, as the locals call their home town (just pronounce L-B-V in French) – is a beguiling hodgepodge of a city: a grab-bag mix of gleaming, vainglorious government buildings, modern tower blocks turned black with tropical mould, and singlestorey shops and tin-roofed shacks of the style found across the African continent. While the architecture may seem incoherent, the welcome is well established – Libreville is a laid-back capital city and the Librevilleois who call it home are warm, genuine, and inevitably intrigued to hear that you've come to their town as a tourist.
Arriving by air in the daytime offers a fantastic view over the riotous greenery and labyrinthine creeks of Akanda National Park to the north, and by night you see the city's isolated glow – surrounded by the Atlantic's inky blackness to the west and Gabon's famous forests to the east. You can sometimes even spot the eerie fires of oil platforms burning off excess natural gas offshore. The runway is no more than 500m from the palm-studded shore, and the tropical humidity will have you in its pillowy grasp before you're down the boarding stairs. From here, the city is your oyster, and Libreville has a little something for everyone, whether you're after glittering nightclubs and fine gastronomy or traditional art and secretive ceremony.
One of the city's major downsides, and a constant gripe of visitor and resident alike, is the high cost of living (or visiting). Ranked as the world's 18th most expensive city, it costs more to live in Libreville than in London, Paris or New York. Les Librevilleois, whether nativeborn or recently arrived, can all agree: the city is très, très cher.
Most visitors spend much of their time in the neighbourhoods more or less along the oceanfront, but there is another, less visible side of the city behind the slick office blocks and whirring construction cranes. Les Mapanes, as the informal settlements ringing the city on the hilly outskirts of town are known, often lack reliable water, power and sewage, or some combination of all three. Worse still, these slums are often located on hillsides and in valleys prone to flooding – all this in one of the world's wettest capitals, clocking over 2.85m of precipitation annually. Here, Libreville's dirty laundry – overpopulation, insecurity and unemployment – is on full display. Many residents of les Mapanes, if they are employed at all, work as waiters, cooks, drivers or labourers, and the conditions of their employment are often precarious indeed, particularly for immigrants. A significant number of Libreville's slum-dwellers hail from Senegal, Cameroon, Benin, Togo and elsewhere in West Africa.
Much like the rest of Gabon, Libreville has seen a general slowdown in business activity over the past few years thanks to depressed global oil prices – known locally as la crise (the crisis) – and the city's considerable reliance on the industry, but it nonetheless continues to be a magnet for immigrants and young people seeking a better life. The city elected its first female mayor, Rose Christiane Ossouka Raponda, in 2014; her successor, Léandre Nzué, was elected in 2019, and promised a thorough clean-up of this often-disorderly city – we wish him luck.