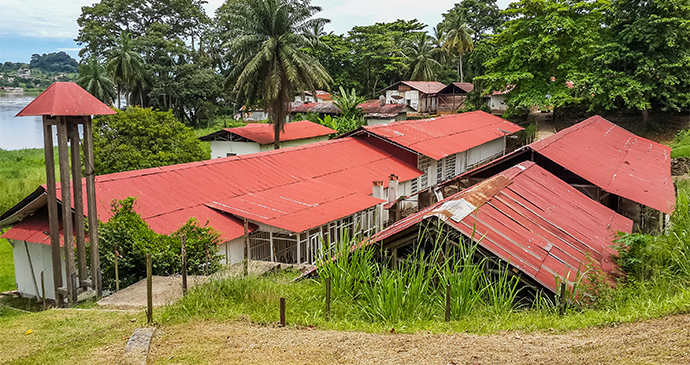 Albert Schweitzer's hospital put Lambaréné on the map for Europeans © Fabian Plock, Shutterstock
Explore the different river islands that make up Lambaréné, home to Albert Schweitzer's famous hospital.
Split into three unequal parts by the bifurcation of the Ogooué, Lambaréné is a river-island city with around 39,000 inhabitants. The three parts of the city – the Rive Gauche (Left Bank), Île Lam baréné (Lambaréné Island) and the Rive Droite (Right Bank) – are divided by the river and united by bridges and pirogues. Each part feels different from the others.
Quartier Isaac on the Left Bank has the highest concentration of small eateries and bars, but also the most rubbish and hustlers. As soon as you cross over the Pont d'Isaac (Isaac Bridge) on to Lambaréné Island, the city feels cleaner and greener. Continuing over the Pont d'Adouma (Adouma Bridge) brings you to the Right Bank and the site of Albert Schweitzer's hospital, which put Lambaréné on the map for Europeans and remains the town's most significant institution and premier tourist attraction to this day. Quartier Isaac's mild freneticism aside, there is a relaxed, friendly atmosphere here, making it the sort of place you feel like strolling around purposelessly. It is well worth a stay of a couple of days or more, particularly if you want to make excursions on to the surrounding lakes.