© DaneyWiki, Wikimedia Commons
This is a city with a real buzz, one possessed of a sense of self-definition and place.
The world's fourth-highest capital city, Addis Ababa – which translates, somewhat inaptly, as 'New Flower' – sprawls for 220km2 across the southern slopes of central Ethiopia's Entoto Hills, spanning altitudes of 2,350m to more than 2,600m. Climatically, it's a thoroughly encouraging welcome to the country, with comfortable temperatures and cheerful sunny skies alleviated by regular downpours swiftly dispelling any lingering preconceptions about Ethiopia being nothing but parched desert. In certain other respects, Addis, as locals tend to refer to it, can be rather overwhelming on first exposure, with beggars, taxi drivers and hawkers clamouring for the attention of anyone who looks like a tourist, and practised pickpockets doing their utmost to divert it. If that's the case, don't allow first impressions to put you off.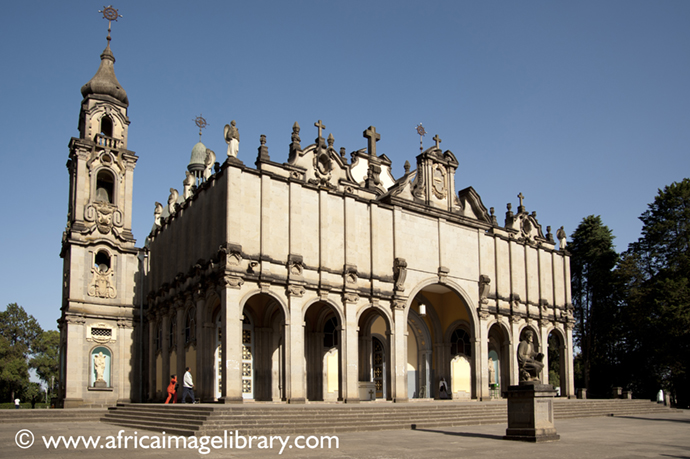 Spend a little time in the Ethiopian capital, and you'll soon realise that its less savoury elements carry a lot more bark than bite. Easy to explore on foot, and tolerably safe even at night, districts such as the bustling Piazza, the modern and gleaming Bole Road, and the more down-at-heel Merkato all boast a compelling urban buzz. Addis Ababa also boasts a fantastic dining-out scene, some great nightlife and live music venues, and an engaging spread of museums, galleries and other worthwhile historic landmarks. Furthermore, Addis Ababa possesses a genuine sense of place lacking in those many other African capitals that were designed to be misplaced pockets of Western urbanity in otherwise underdeveloped nations. Indeed, perhaps the highest praise one can direct at chaotic, contradictory and compelling Addis Ababa is this: it does feel exactly as the Ethiopian capital should feel – emphatically and unmistakably a modern 21st-century city, but also singularly and unequivocally Ethiopian.