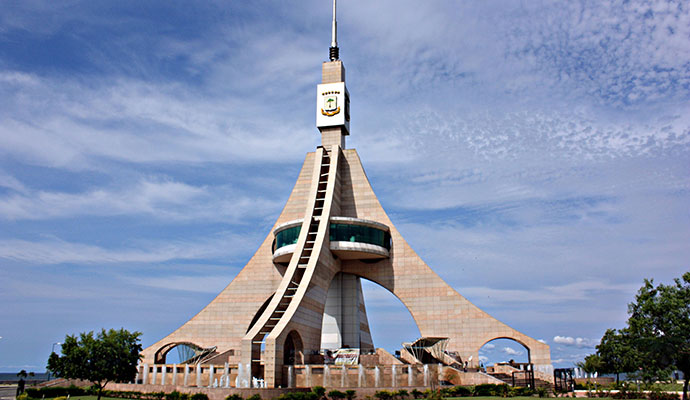 The Torre de la Libertad dominates Bata's waterfront skyline © Oscar Scafidi
If you visit in the dry season it can feel very Mediterranean in terms of weather and appearance.
The capital of Litoral Province is Bata, which is also the largest city in Equatorial Guinea, home to around a quarter of the Equatoguinean population. It sits on a narrow coastal plain, with hills and mountains to the east. The city is a favourite of the nation's elite and it is not hard to see why, as the climate is great, the African influences are varied, and the city architects have done a great job sculpting the waterfront into a modern, enjoyable place to spend time.
Bata is a beautiful city with a renovated waterfront walkway, Paseo Marítimo, that is currently being expanded to the south. The coastal skyline is dominated by the Torre de la Libertad (Tower of Freedom) which was inaugurated on 12 October 2011 to celebrate Equaotguinean independence. The city serves as a gateway to the landlocked interior provinces and also to the region, through the busy international airport and the main highway which takes you all the way to the border with Gabon at Mongomo.