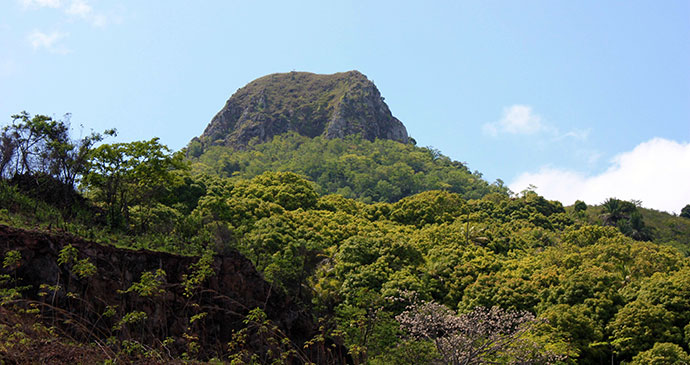 It's easy to hike up to Annobón's extinct volcano © Oscar Scafidi
Go whale-spotting on this mysterious and isolated island.
Without an understanding of the colonial history of this region, it makes little sense that Annobón is a territory of Equatorial Guinea. It is 480km southwest of Corisco, separated from the rest of the nation by a vast stretch of the Atlantic Ocean, as well as the island of São Tomé. It is home to an isolated population of a few thousand residents, who speak Fá d'Ambô, a Portuguese Creole that hints at their unusual ancestry. Historically marginalised, today Annobón is changing at a rapid pace thanks to a construction boom on the island spurred on by the completion of the new airport in 2010. Head to Annobón for trekking across the volcanic scenery, whale watching and to enjoy some pristine golden beaches. Landing at the tiny capital of San Antonio de Palé on the northern tip of the island, nearly everything you need is within walking distance and if not you can always jump in a boat to explore the even smaller southern settlements. Circumnavigating the island in a decent boat takes less than 2 hours! It has never been easier to explore the least visited part of Equatorial Guinea.