This newly popular national park is one of the last undeveloped wilderness regions on the planet.
This is quickly becoming a prime attraction for visitors to Congo, bringing tour groups directly into the Pokola base camp and on guided tours from there in. In 1990, it began as an extension of the Dzanga-Sangha Special Reserve in the Central African Republic and was initially simply a faunal reserve; as a result of the efforts from conservation groups worldwide, it has since become a fully fledged national park.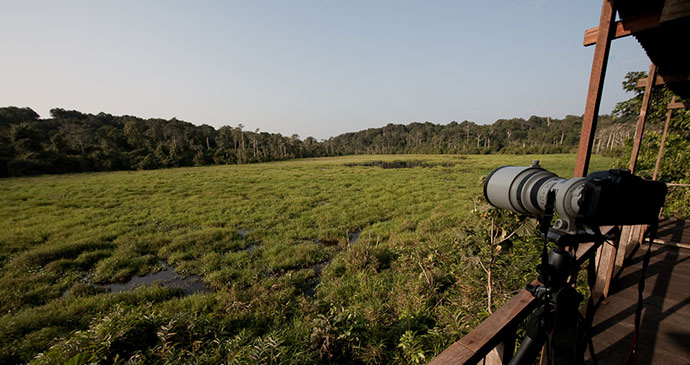 On occasion this area is referred to as the Sangha Tri-National Reserves, with the Lobeke National Park in Cameroon further extending the protected area. WCS Congo has hired several dozen Ecoguards to monitor the entire reserve and in so doing reducing the frequency of illegal hunting and logging when compared with other reserves and parks throughout either Congo. The guards work closely with the Ministry of Forest and Environment in Brazzaville, and the ministry has ensured that the park remains a protected region.
All of this means that Nouabalé-Ndoki is quickly becoming a very popular place to witness one of the last undeveloped wilderness regions on the African continent. It has several villages within its boundaries, including Pygmy settlements, and these people have also been enlisted by conservation groups to protect the landscape.
Large mammals are generally undisturbed in the area, and due to a well-maintained airstrip directly on the edge of the park in addition to regular commercial flights from Brazzaville, it has become easily accessible for those interested in visiting.