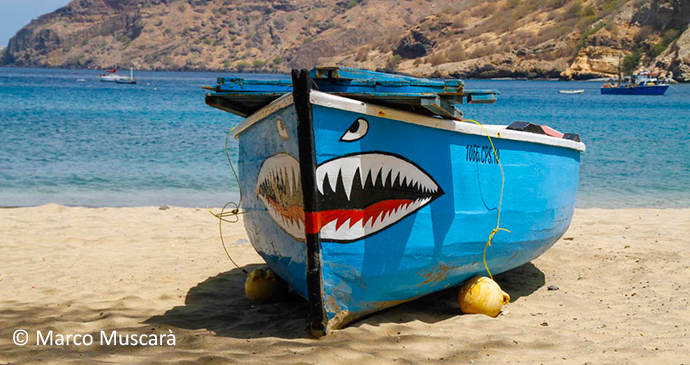 A brightly coloured boat at Tarrafal de Monte Trigo © Marco Muscarà
A long, bumpy journey from Porto Novo leads you to this settlement with its sweeping bay, black-sand beach – and truly splendid isolation.
This isolated spot on the west coast is hard to get to but definitely worth the effort. The road up, then down, from Porto Novo is spectacular, with breathtaking views over to São Vicente, Santa Luzia, São Nicolau and even Fogo, on a very clear day. It may not be passable in the rainy season, as bridges can be washed away. Your aluguer driver will probably stop if you want to take photos – and you undoubtedly will. The approach from the sea is also beautiful – a small spot of green colour amongst the brown-grey massifs of the mountains gradually resolves itself into the whites and pastels of this sleepy town. Around the black-sand shore – the longest stretch of beach in Santo Antão – fishermen relax, fierce games of oril click away under the trees, women wash clothes; and hens, pigs, goats and dogs go purposefully about their business. Sea eagles are common here, so keep an eye open for them plucking their dinner from the ocean. This a great venue in which to do very little, a perfect place to relax at the beginning or end of a hiking holiday. Snorkelling and scuba diving are both possibilities, as is fishing with the locals. In the last few years, this sleepy backwater has begun to waken itself. Electricity is now available all day, mobile-phone coverage has arrived and Wi-Fi is available in some of the guesthouses. Further improvements to the infrastructure are underway, for better or worse.